The newly-announced Starbucks Holiday 2019 drink menu is filled with comforting classic coffee favorites – and will be sold in festive reusable cup designs! This season, Starbucks drinkers can expect to sample some Peppermint Mocha, Toasted White Chocolate Mocha, the Caramel Brulee Latte, the Chestnut Praline Latte, and the Eggnog Latte, plus the annual Christmas Blend coffee.
Each drink option is topped with a matching flavored treat, like peppermint sprinkles, white chocolate, slivers of caramel, candied chestnuts, and yummy brown sugar.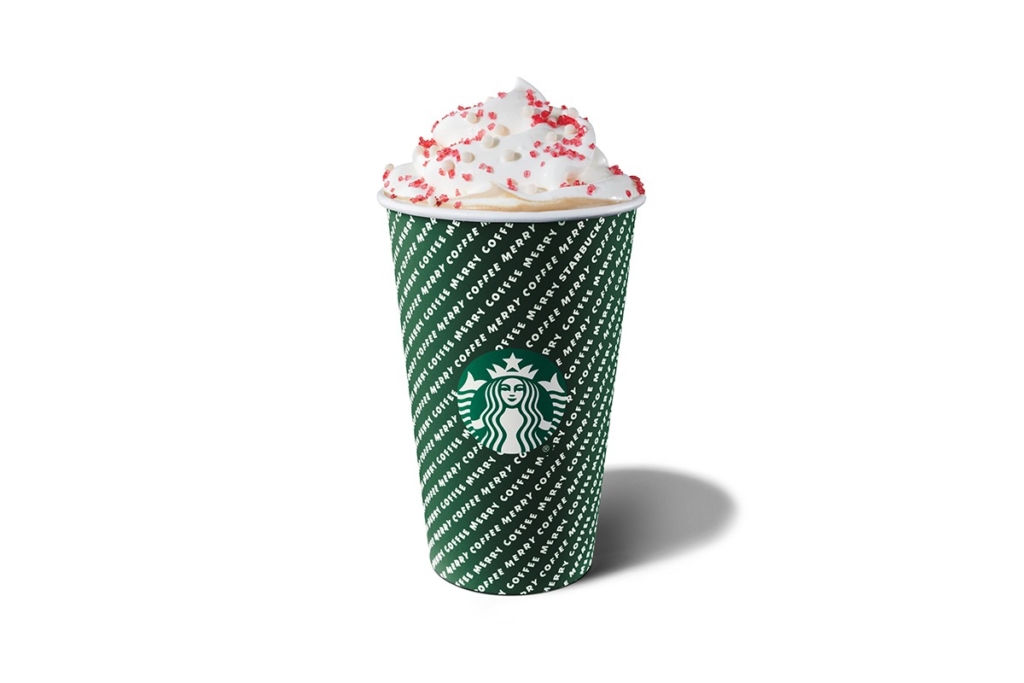 So, about those cups! Starbucks' iconic red cup and seasonal holiday art designs have become quite the treat to look forward to each year. For 2019, there will be four different cup designs, called Merry Dance, Merry Stripes, Polka Dots, and Candy Cane Stripes. Each of these playful cups feature a jolly red and green color scheme and bold typography.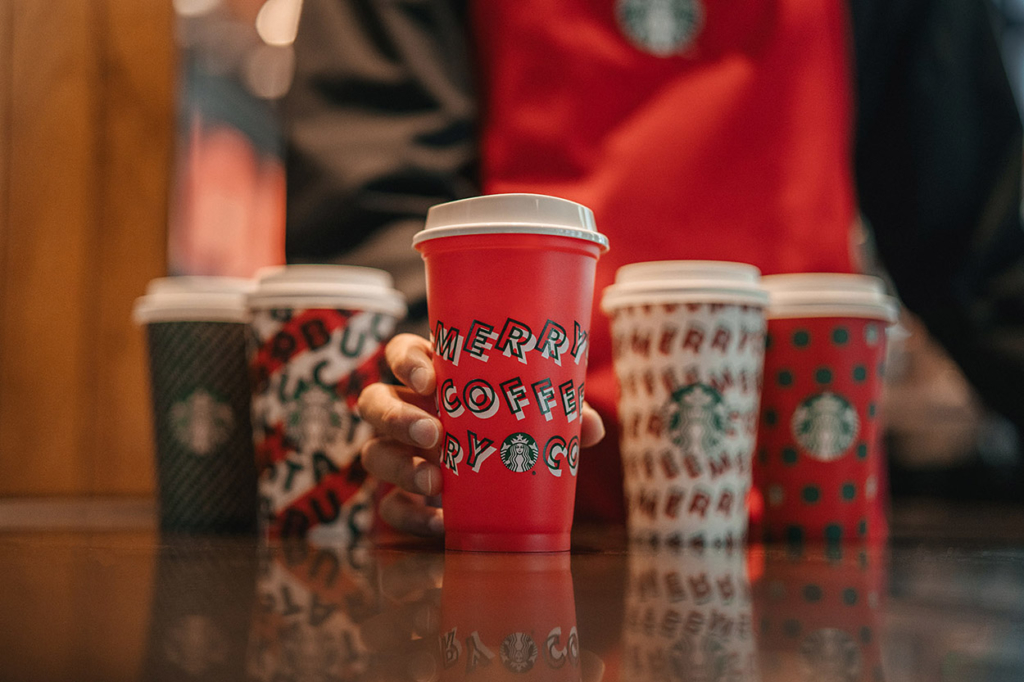 "We came up with this idea of wrapping the stores in holiday joy and wrapping the cups like a gift to our partners and customers," said Jen Quotson, vice president of Starbucks Creative, in a statement. "We wanted coming to Starbucks to be like uncovering a present. We played with this idea of typography being art and the green dot of the Starbucks logo. We just thought that was a very sweet expression of the brand, but still felt very holiday."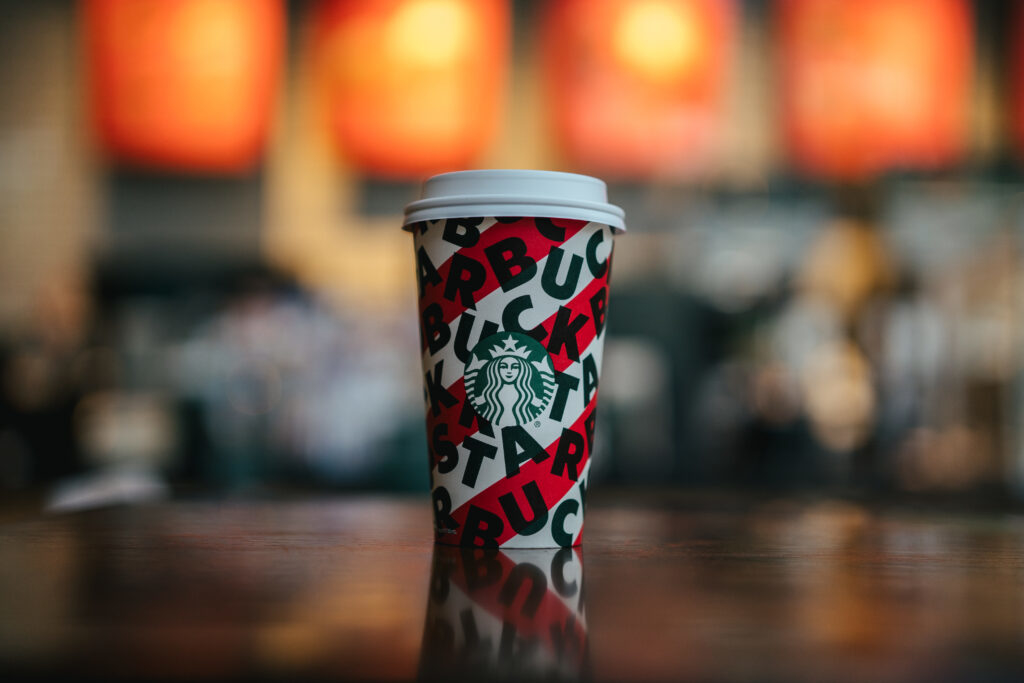 When you bring your red cups back to Starbucks stores from November 7 through January 7 to reuse them, you'll also get 50 cents off your next grande holiday beverage – which includes these new additions along with hot chocolate varieties, pumpkin spice lattes, and more. This literally is the gift that keeps on giving!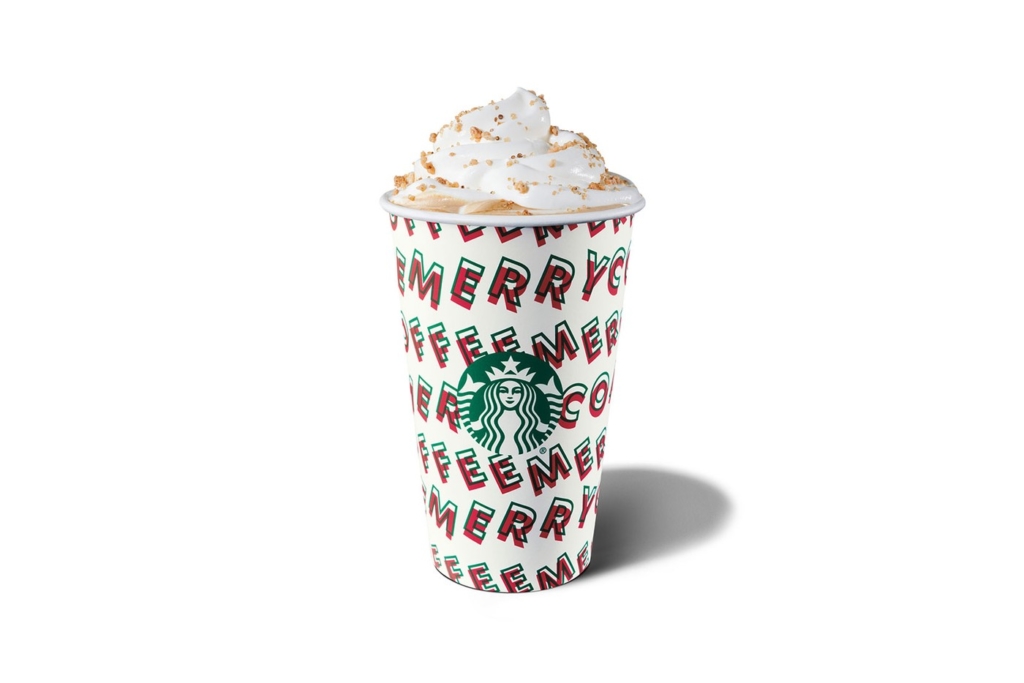 The full Starbucks Holiday 2019 menu will be available at Starbucks locations across the United States and Canada starting on November 7.
More new drink updates from Starbucks.
More brands' special edition Holiday 2019 launches.
All photos via Starbucks
—

Kristine Hope Kowalski