Does that hair straightener you got back in high school need a serious upgrade? If you're looking to invest in a high-tech new flat iron, the just-launched Dyson Corrale flat iron may be right up your alley. The luxury styling device was designed to give users the sleek and shiny hairstyles they crave – with less passes and using considerably less hair-damaging heat.
The Dyson Corrale is comprised of magnesium copper, micro-hinged, movable flex plates that apply even heat on your locks by routing up – or corralling – each strand. The three heat settings range from 360 to 410 degrees, and can be customized to work with your individual hair texture and length. Dyson claims that this leads to 50 percent less heat damage than traditional non-flexing double plate hair straightener results.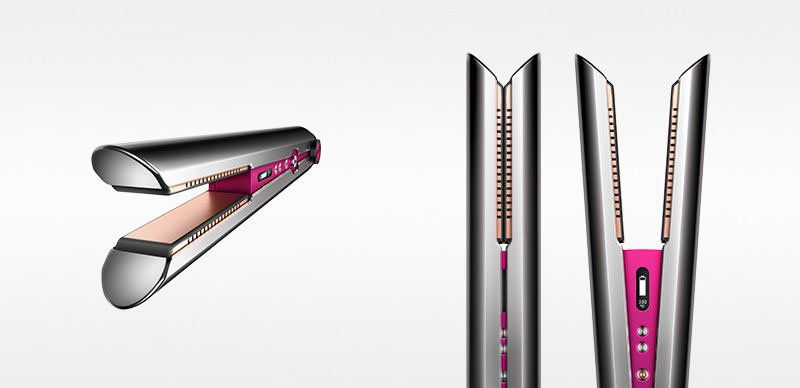 "We have continued to explore the science of style, seeking to understand what makes hair smooth, shiny, and glossy, and what makes it dull, damaged and lifeless," said founder and chief engineer James Dyson about the product in a press release. "The Dyson Corrale straightener elevates styling results, while dramatically reducing the heat damage on hair."
The flexible flat iron can work as a traditional corded style when attached to its charging cable, or it can operate for 30 minutes completely wireless thanks to its internal lithium batteries.
The Dyson Corrale flat iron is now available to shop at Nordstrom and online for $500.
Right now, the cutting-edge hot tools are available in two sophisticated colorways: black nickel/fuchsia, and purple/black.
To see the device in action, be sure to check out the Dyson Corrale flat iron product video in the player below.

More exciting new beauty launches.
More new hair styling products to try.
All images via Dyson
—

Kristine Hope Kowalski