If you simply can't wait a second longer for spring weather to finally arrive, you'll likely be pumped that a new crop of limited edition spring treats are already here! The Starbucks Spring 2020 drink menu just launched in stores across the United States this week, and it features a mouth-watering trio of chilled beverages that will have you dreaming of sunnier days ahead. These delicious options include the Iced Golden Ginger Drink, the Iced Pineapple Matcha Drink, and the Nitro Cold Brew with Salted Honey Cold Foam.
The Iced Golden Ginger and Iced Pineapple Matcha varieties are both sunny drinks inspired by Venice Beach, California, and feature coconut milk bases. Iced Golden features yummy ginger, pineapple, and turmeric flavors, which are sure to wake up and shake up your taste buds.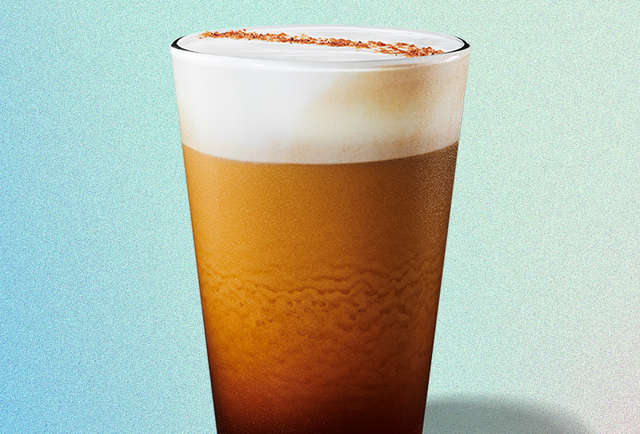 "Its vibrant color and sunny flavors make you think of springtime," said Kris Murray, the product specialist for the Starbucks Beverage Research & Development team, in a press statement.
Meanwhile, the "Iced Pineapple Matcha Drink is the perfect blend of pineapple and matcha with a hint of coconut," Murray added. "At first sip, you get some of that pineapple flavor complimented by the coconut milk, with matcha and ginger flavors really shining through at the end."
Finally, the Nitro Cold Brew with Salted Honey Cold Foam takes the already smooth flavors of Starbucks' nitro cold brew, and tops it off with a salted honey cold foam and some sweet and salty toasted honey striped through the foam. We're digging how colorful and Instagrammable these new iced treats are, though we'd expect nothing less from Starbucks.
The Starbucks Spring 2020 menu drink options are now available at Starbucks locations across the United States.
More drink news from the Starbucks brand.
More new Spring 2020 updates to keep up with.
All images via Starbucks
—

Sam Eggerling