In timing with the recent 50th anniversary of Earth Day celebration, Canadian womenswear designer Hilary MacMillan launched a new sustainable fashion basics collection. The label is already known for its cruelty-free apparel and size-inclusive designs, and now they're even better for our planet. As the first product launch, the brand revisited its popular signature dress shirt, redone as the Sustainable Signature Blouse. Now, the gorgeous shirt is made from 100% cupro, a traditional silk alternative that's crafted from unused cotton liner by-product. The unique materials and crafting process gives the garments a sueded look and feel.
"Since starting the Hilary MacMillan label, I've been consciously aware of our environmental impact and carbon footprint," said designer Hilary MacMillan in a press statement. "As we evolved into a cruelty-free brand, it was a natural choice to further explore what it means to be a brand participating in eco-conscious and sustainable practices and I'm proud to say this collection is the beginning of a very important journey for Hilary MacMillan."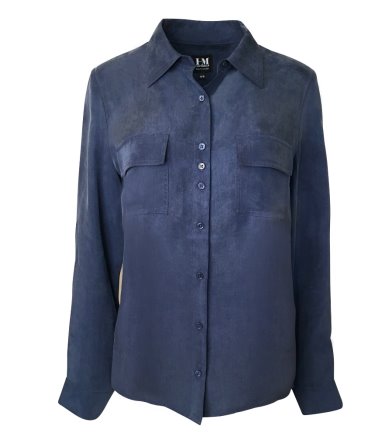 The special ingredient here is the biodegradable cupro, which can notably be decomposed by living bacteria when buried in soil within 4-5 months. But additionally, the five different blouse colors — black, blue, ice blue, mustard, and cream — are made with coloring fabric dyes derived from scrap onion skins, rice, bamboo, grapes and other off-cut, natural ingredients – all of which are from 'off-cut' planet materials.
"This blouse is truly so exciting to me, we have worked so hard over the years to perfect the fit," MacMillan added. "Now, all the best things about this blouse are elevated by the fact that it's biodegradable, naturally dyed and sustainably made in small batches."
We're looking forward to seeing where this Hilary MacMillan Sustainable line extends next!
All Hilary MacMillan eco-friendly blouses are available in sizes XS-4X. The products are priced at $220 CAD/$165 USD.
More eco-friendly fashion news.
More sustainable style initiatives to keep up with.
All images via Hilary MacMillan
—

Kristine Hope Kowalski