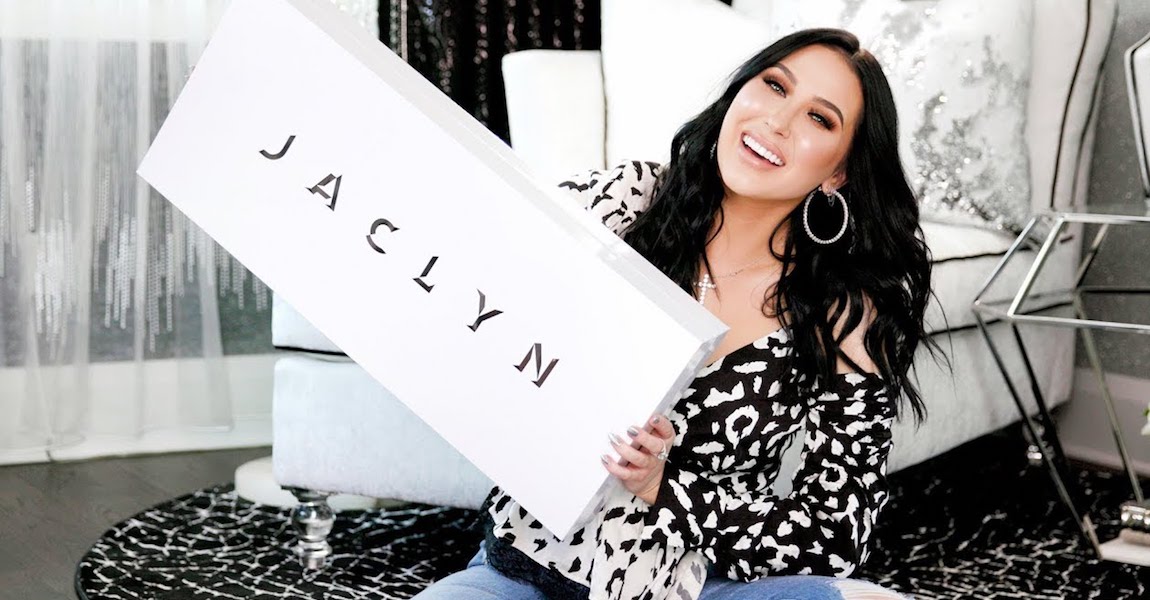 YouTubers Sound Off on Jaclyn Hill's Lipstick Launch
Popular YouTuber and beauty influencer Jaclyn Hill recently launched her highly-anticipated makeup brand, Jaclyn Cosmetics. The glam range is filled with a 20 shade variety of nude-toned lipsticks that are causing quite a stir in the makeup community. While many customers praised Jaclyn's pretty color selection and smooth, buttery formula, many others have alleged their products arrived lumpy, scratchy, bumpy, or worse – covered in what they're claiming is either tiny hairs or mold.
The creator has since spoken out to address shoppers' concerns, but many social media reviewers have started sounding off about their individual experiences. Below, we are rounding up some of the YouTube videos created by several other prominent beauty influencers, who have shared a variety of controversial opinions about their own hauls of Jaclyn Cosmetics lipsticks.
Raw Beauty Kristi
Makeup YouTuber RawBeautyKristi created a thorough and in-depth video about the debut range of Jaclyn Cosmetics lipsticks. The creator not only tried out the colors, but compared her own purchase order to the complimentary samples she received from the brand's PR mailing, but she put her lipsticks under a microscope to see the alleged issues up close and personal. Kristi had more than a few product consistency issues, and broke down exactly what she was witnessing.
Nyma Tang
Beauty guru Nyma Tang frequently swatches popular makeup launches to show her viewers what a given range looks like on darker skin tones. In her latest video, she runs through the Jaclyn Cosmetics lipsticks collection to determine which colors she thinks are dark skin-friendly – and may be worth picking up if you're in a similar shade range. Nyma didn't face the same product issues as Kristi, but she did give her honest take on the formulas.
Brianna Fox
YouTuber Brianna Fox has been a fan and supporter of Jaclyn Hill for ages, but she admits her excitement about the lipstick launch was dampened by what she received in her order. Originally, Brianna says she didn't have any product issues, but the more she used the lipsticks, the more she encountered chunks, bumps, and "long hairs" embedded into some of the bullets.
ThatGirlShaeXO
Beauty guru ThatGirlShaeXO created a live swatch video to show off her full collection of Jaclyn Cosmetics lipsticks. She detailed what she loved about the line – like the colors' opaqueness, color payoff, and creamy, glide-on formula – and gradually noticed what was problematic – like major air bubbles, some melting, scratchy texture, and more concerns.
Jen Luvs Reviews
Originally, YouTuber Jen Luvs Reviews recommended the Jaclyn Cosmetics lipsticks to her subscribers, and then became very upset with the details emerging from the launch. She says she didn't receive damaged or contaminated products in her shipment, so she was happy with the quality at first and gave her seal of approval instantly. But after further investigation, the story needed to change.
Nikkia Joy
Australian YouTuber Nikkia Joy created a passionate video to explain she thinks Jaclyn's launch poses a public safety hazard. As a cosmetics brand owner herself, she was empathetic to the situation, but ultimately called the lipsticks "contaminated" and unsafe.
Jaclyn Hill
In a statement to Business Insider, a Jaclyn Cosmetics spokesperson said:
"The response to the launch of Jaclyn Cosmetics has been incredible. Of the incredible volume of orders that were placed at launch, we believe less than half of one percent of orders were impacted by compromised product. We are actively reaching out to our customers with questions and concerns and have added to our customer service team to make sure that any questions are swiftly addressed. We are keeping an eye on the Jaclyn Cosmetics social channels and info@jaclyncosmetics.com, and welcome all feedback. We love our customers and are proud of our successful launch."
To hear Jaclyn Hill herself tell you all about her new cosmetics line, make sure to catch her version below.
More beauty news to keep up with. More YouTube makeup reviews to check out. All images via respective YouTubers, lead image via Jaclyn Hill
Disclaimer: Richard Magazine has not independently verified the claims made in the above videos. We are simply presenting the variety of YouTuber opinions circulating on social media following the product launch.