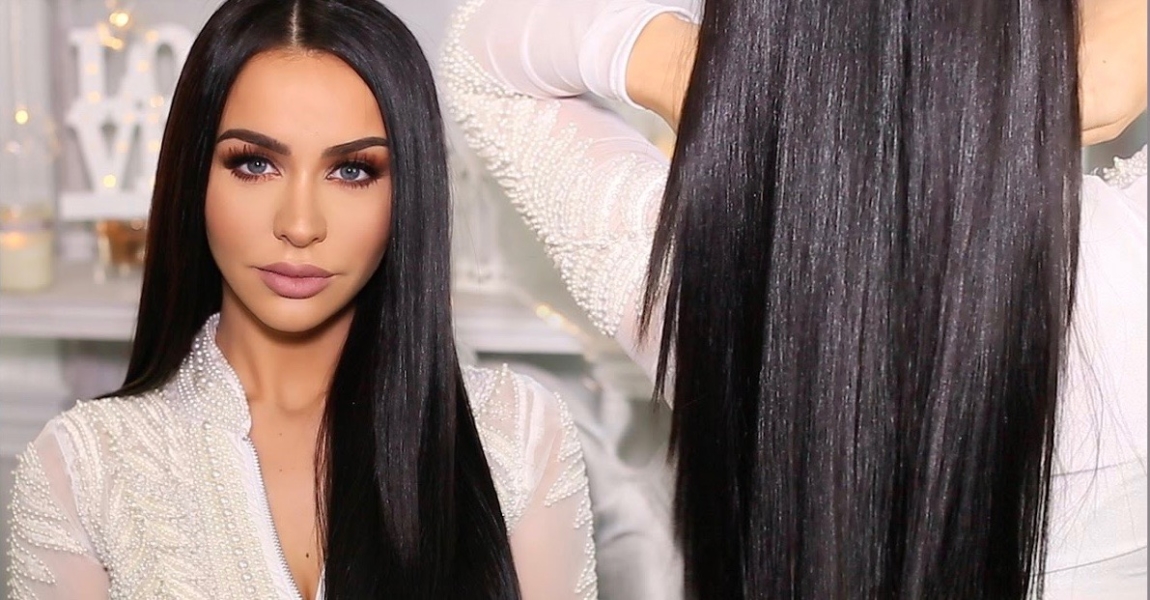 6 Tips to Getting Long, Luscious Hair Like Carli Bybel's
With all the mermaid hair trends out there, and celebrities like Kim Kardashian, Ariana Grande, Demi Lovato and many more rocking their waist-length long wigs, we can't help but be obsessed with long hair that luscious. And we can't all afford to invest in these popular and realistic wigs. But just a few lifestyle changes precautions can steer you in the right direction of growing out your long hair naturally like one of our favorite beauty influencers, Carli Bybel.
Below are a few tips for growing out luxe long hair so that you can live out your dreams of having the mermaid length tresses you've always wanted. Just remember that change won't happen over night and like everything else in life, it takes time and lots of dedication.
1. Take a look at your diet.
In order for your body to be healthy on the outside. It needs to also be healthy on the inside. So keep in mind of all the junk you put in your body that may be contributing to your lack of hair growth. Drink a lot of water to keep your body hydrated, skin clear, and your hair nourished. Plants won't grow without water, and neither will your hair. Protein-based foods, fruits and vegetables have natural antioxidants, oils, and vitamins that your body needs to keep everything functioning and that feeds your hair the nutrients it needs. So make sure you're taking care of yourself from the inside out.
2. Get frequent hair trims.
You may feel hesitant in trimming your hair while trying to grow it out – especially when your version of a trim is far off from the hairstylist's definition of a trim. But it must be done. The more frequently you cut your hair, the less chances you have a of having split ends work their way up the hair shaft. Meaning you'll be cutting less over time, keeping your long hair healthy enough for it to keep growing.
3. Avoid excess heat styling.
Removing heat altogether is really the best option for growing out your long hair. For some of us, that seems to be impossible. But a good tip for eliminating some damaging and time-wasting heat styling is to wash hair around the evening time. Put your hair in two braids or two buns to reduce frizz and to let it air dry. In the morning, you'll be left with soft, shiny, and wavy hair. If you wish to pass quick passes with the flat iron you may do so just remember not to go over 350 degrees. A good rule of thumb is you burn cookies when baking at over 350, so don't do it to your hair! Take smaller sections reduce the amount of heat you put on it and then blast some cold hair on it to lock it in.
4. Don't over wash your hair.
Washing your hair too often strips the natural oils your scalp produces in keeping your hair healthy. Over time, your scalp actually starts producing more oil because shampoo tricks your scalp into thinking you're washing it all away. When you do wash, make sure to use a good conditioner on your ends. The ends of your hair are technically dead hair because they are no longer attached to the root of scalp. That means your tips don't receive the oils that your roots do. So you want to make sure that your ends are being nurtured as well. A leave-in conditioner is a great option when putting your hair in a bun or braids because your hair locks in the conditioner making it smoother and shinier to style in the morning.
5. Consider getting a keratin treatment.
This option can be quite pricey depending on your area, but it is recommended if you have naturally frizzy hair. Sometimes you need to ask yourself why you're using all these hair tools in the first place, and what you can do to reduce it. So if one of your problems is defaulting to a straightener to get rid of frizz, then you can eliminate the use of that tool by getting a keratin treatment: which consists of a protein thats bonded to the outer layer of the hair that helps smooth, protect, and relax the hair. There are many types of strength for keratin – which can range from mild to high –depending on whether you want to keep your texture the same and just smooth it out, or completely change your texture to straight hair. This method last 3 months to 6 months but can dramatically cut down the use of any other heat tools giving your hair the opportunity to grow and be nourished.
6. Consider using hair-boosting supplements.
Sometimes your hair needs a little boost even after doing all of the tips from above. Maybe through stress, poor diet, or health issues you may be losing or thinning your hair. Just like your body needs proper vitamins, so does your hair. Try products like Cydney Mar's Wellness hair, skin, and nails supplement. She worked with Naturopathic doctors to formulate a product line of all natural supplements to help give you long shiny hair. The ingredients use help the body metabolize carbohydrates, fats, and proteins to help in tissue formation that stimulate hair growth and a healthy body. In just two short months you can see drastic changes in volume and length.



More helpful hair tips. More new beauty recommendations to try. Lead image: courtesy of Carli Bybel's blog.
SaveSave