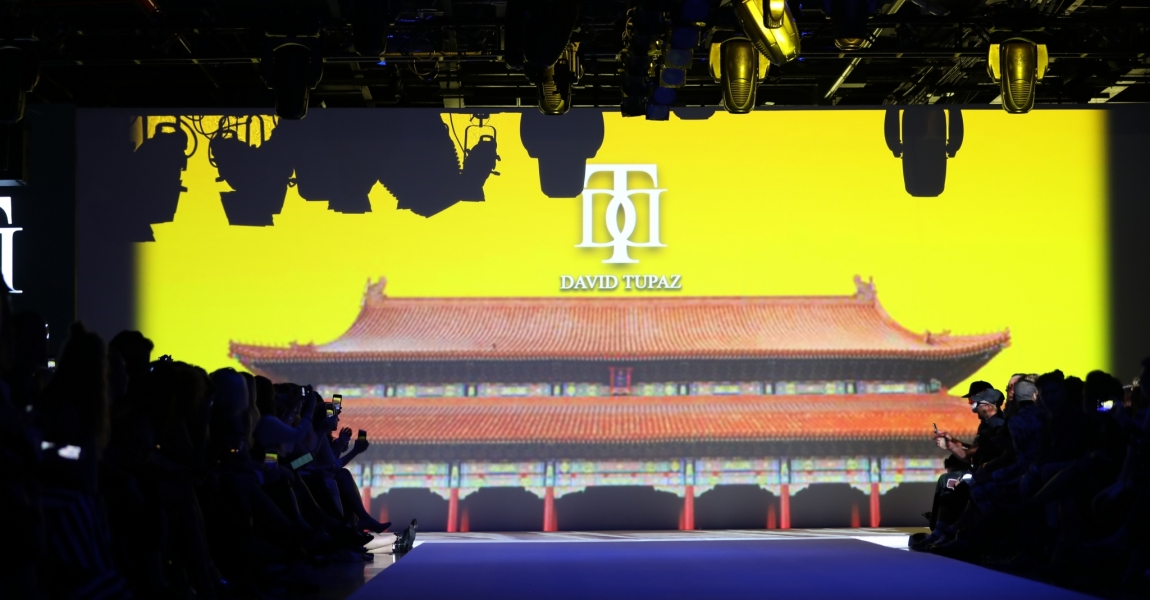 Runway Interview with Filipino Designer David Tupaz
Filipino designer David Tupaz thinks big when he designs his evening gowns – the kind of big you find in Hollywood and on the red carpet. Such an impressive reputation didn't come without struggle, but now Tupaz is living his dream as a designer to the stars. Richard Magazine caught up with him at Style Fashion Week after being wowed by his unforgettable Spring 2018 evening gown collection.
Tell me about this collection. What inspired you to create it?
Well, the collection is inspired from the Forbidden City, which is the Ancient Palace in China. I focused on two dynasties, which is the Ming and the Qing Dynasty, because that was the period when women became powerful in China. When the Europeans were still wearing animal fur, the Chinese were already wearing silk. When the Europeans were eating straight from the knife to the cow, the Chinese already had chopsticks and porcelain plates and tea sets.
So their civilization was way advanced, and…the Ming and the Qing Dynasty was the time of excessive ostentation – I'm sure you've seen Chinese movies, and they're just fully decorated. The inspiration was there but, of course, I have to put it in the present time where the collection has to be wearable. But then again, that was the basis of the inspiration.
How long did it take you to create these pieces?
Well, it took me about seven months to create the collection, which most of the designers do. Eventually, like, after this spring/summer 2018, when I get back home I'm already starting for the fall. For February… We have to do it right away because, you know, fashion is the only industry that changes every season…The thing is, eventually things change and there's always something new, and I think that's what designers are doing — always trying to present something different, something new.
Do you have a favorite piece from your collection?
The last four pieces, which is all the gold, all the ruffles. That was the inspiration. Actually, it was done in gold leaf. The silk organza was printed in gold leaf, following the old tradition of China then.
If you could design for any celebrity who would it be? It could be someone dead or alive.
Oh, my God, you know, my inspiration has always been – for me the epitome of style was — Audrey Hepburn. So when I do a collection, even this, there are pieces here Audrey can wear. I always look up to her and when I do a collection, she is a photo right in front of me. And I always ask myself: Is Audrey going to wear this when I am designing the collection. So there you go.
What's next for your brand?
Well, hopefully, I'm doing a menswear line next year and probably opening a showroom here in New York. I'm still based out of Las Vegas but I do have clients here in New York. So I really come back and forth. Then after New York Fashion Week, it's LA Fashion Week, and then we do Palm Springs.
Do you have a studio here in NYC?
Not yet. I used to live here, then I moved to California, and then after California, I moved to Vegas. I'm the only established designer in all of Nevada. Nevada and Las Vegas have to be represented so I represent Las Vegas in every major Fashion Week in the country.
If people wanted to get in touch with you or look at your designs on social media where can they find you?
Well, you can get to my website. It's www.DavidTupaz.com. Tupaz is like the birthstone Topaz except it's spelled with a U instead of an O. Of course, I'm on Facebook, Instagram, and all that.