As you shelter in place and practice social distancing, you may find yourself looking for more creative ways to stay in touch with the world around you. While Zoom calls and virtual yoga sessions are fun outlets to gather with your friends digitally amidst COVID-19 concerns, writing letters and mailing cute cards can be an even more personal way to show those you're physically distant from just how close to your heart they really are. That's where Rosie's Wonders comes in!
Rosalie Schulick, the Vermont-based artist behind Rosie's Wonders, creates whimsical and charming greeting cards from her hand-drawn designs. Featuring recycled paper and spirit-lifting artwork, these stationery items encourage us to let our sentiments flow through our handwriting to reach others in a way that texts and Facebook posts can't. After all, there's nothing like a surprise letter from a friend in a mailbox otherwise filled with junk mailers and bills!
Like all small business owners right now, Rosie's Wonders is adapting quickly to the changing times and keeping people connected when they need it most. The creator has assembled a variety of occasion and "thinking of you" cards for her website and Etsy shop, including curated "Pandemic Packs" that speak to the unique challenges we're all going through together. The Richard Magazine team caught up with Rosie over email to hear about how her art has evolved over the years, and how her work continues to put a smile on people's faces. Be sure to check out our exclusive Q&A below.
---
Richard Magazine: How did you first get into creating cards, and how did you find it to be an extension of your artwork?
Rosie: I started drawing as a small child and was always creating hand-drawn notes with fanciful illustrations and encouraging ditties for family and friends. At age eight I was diagnosed with cancer and continuing to create during those challenging times became more of a necessity to me. It offered a refuge that helped guide me through the experiences I was faced with. My daily drawings and notes became more like hymns to keep going: it will all work out in the end, you are doing great, you've got the power!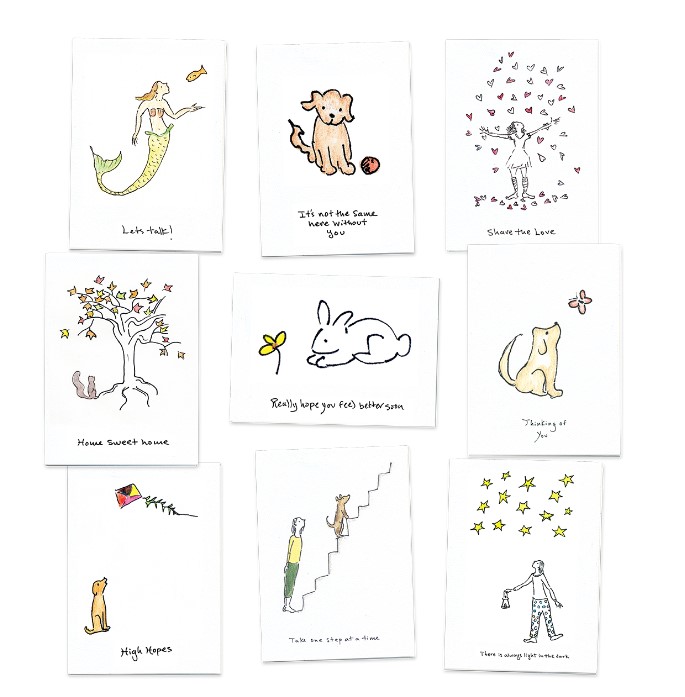 Throughout my schooling and after college I explored many artforms (weaving, jewelry, pottery, poetry, theatre) but eventually turned completely to putting my energy into offering cards, aspiring to bring joy, inspiration, and connection to the world.
Now those early hymns are my Rosie's Wonders sayings and images to help others along on their journey. Follow your heart, Take one step at a time, May these rough waves bring you higher.
Richard Magazine: What is your process like to create your products?
Rosie: Ideas come in moments and are often inspired by nature or humorous experiences and observations in life with both animal and human friends. My sketch book is usually with me so I can catch those moments. I use watercolor pencils and India ink pens and always look for eco-friendly options. Both my cards and envelopes are 100% recycled stock and protected with biodegradable sleeves. All cards are printed at a local Vermont printer.
Richard Magazine: Can you tell us a bit about the range of designs you're introducing specifically during the pandemic?
Rosie: Many of my current designs hold meaningful sentiments for these challenging days. Life may hand us rough times, though there is always a light hidden within our circumstances that can lift our spirits and lead us through. I offer three Pandemic Connection Packs that can be found on my website. I chose a variety of designs. Some offer humor, others encouragement and well wishes. I also post newly inspired designs from my sketch book on my Instagram account, @rosieswonders.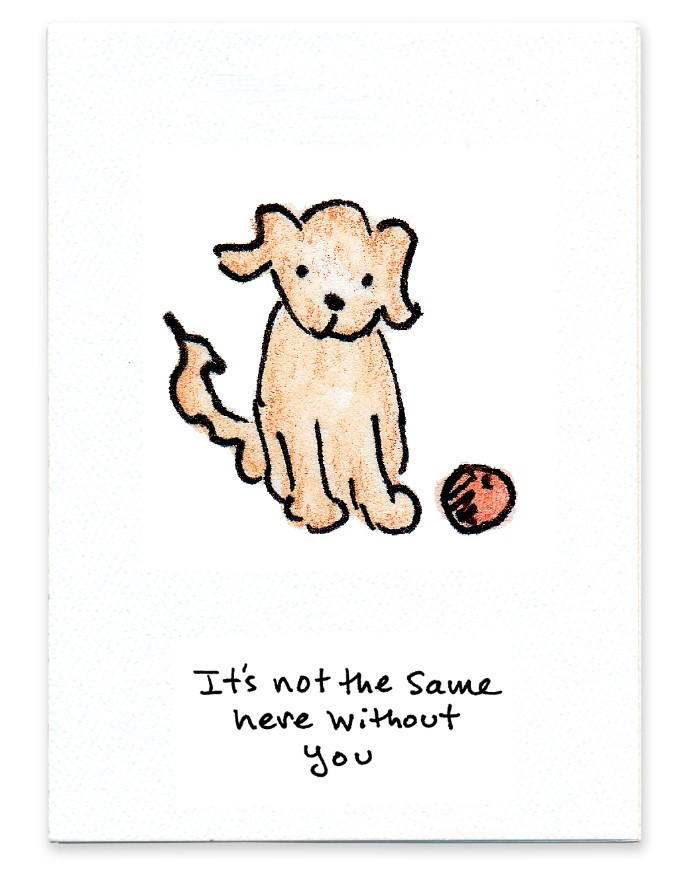 Richard Magazine: Why do you think it's particularly therapeutic to turn to handwritten letters during these times?
Rosie: When writing a letter, you are making a choice to focus on giving yourself to the recipient. Your time, your thoughts, your concentration. The ancient art of handwriting has been used for centuries to connect loved ones near and far. It is scientifically proven to produce the same positive compounds as receiving a hug.
Writing a card can brighten one's day and rekindle the feeling of connectedness especially at a time of further isolation. Handwriting calls for a slower pace to visualize and contemplate the person you are writing to. That person will feel the commitment you made when they receive their card. I hope that the insight and inspiration I feel when designing my cards transmits to the recipient as well.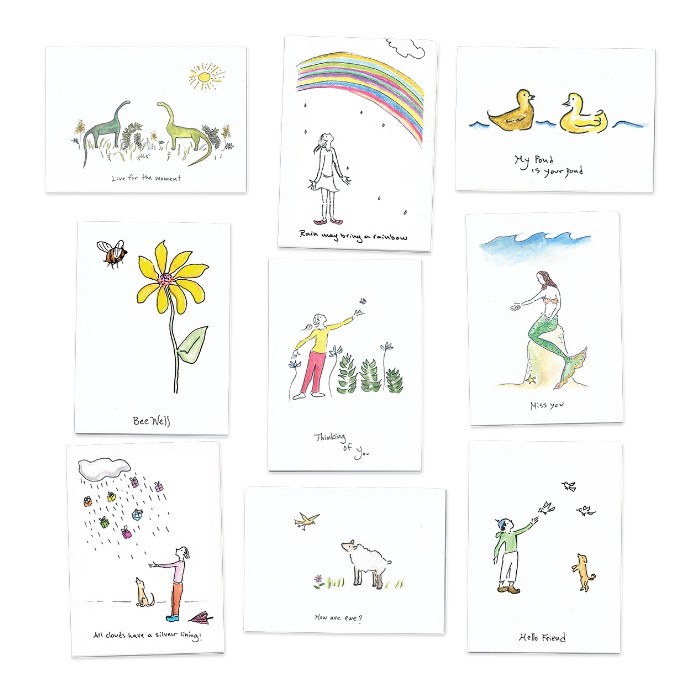 Richard Magazine: How do you hope these cards can be a source of comfort for both the sender and recipient during these times?
Rosie: One of my losses in the pandemic is not being able to participate in my local Farmer's Market. I deeply miss the intimacy of seeing people with the cards and how it affects them, feeling their excitement over giving a card to a special person in their lives. Or framing the art as a gift to themselves and a daily reminder of its encouragement.
It's my hope that this connection will continue and even grow and help people feel less alone in this very isolating time.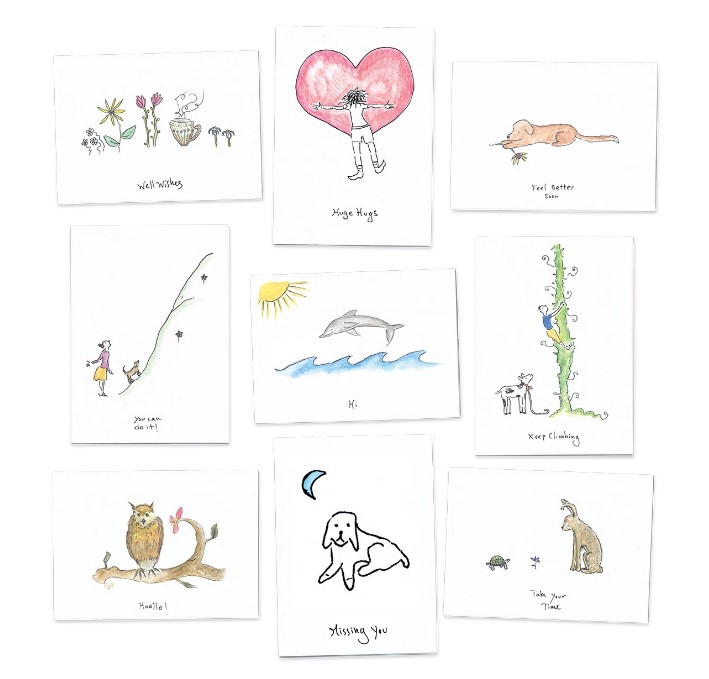 Richard Magazine: What are some of your most popular designs?
Rosie: Some of my most popular designs are: Huge Hugs, Missing You, Rain May Bring a Rainbow, Thinking of You, So Sorry for Your Loss, Live for the Moment, Make a Wish it's Your Birthday and Dare to Dream. Though it's a tricky question, because many of my designs call to different hearts in different situations.
---
More stylish greeting cards to check out.
More industry updates amidst COVID-19.
All images via Rosie's Wonders
—

Kristine Hope Kowalski