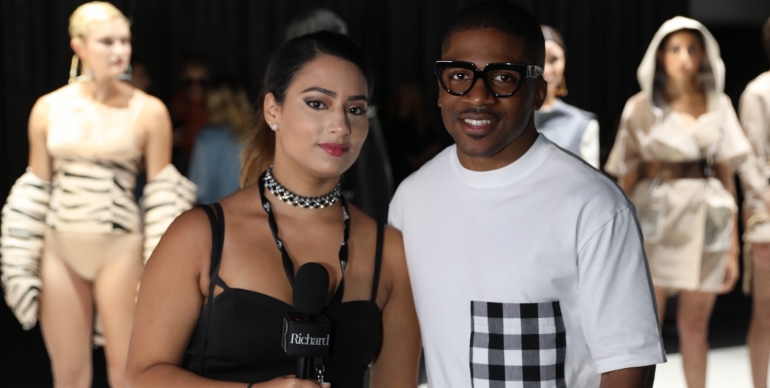 Runway Interview With Romeo Hunte
Brooklyn-born fashion designer Romeo Hunte is making impressive ripples in the fashion industry. In just three years, his eponymous brand has been worn by A-list celebrities like Beyoncé and Victor Cruz. Today, Romeo Hunte New York is the definitive lifestyle brand for women who appreciate luxurious outerwear wrought with intimate details. We talked with Romeo during his Spring 2018 collection presentation at Style Fashion Week to hear more about what inspires him and get some first-hand design advice.
What inspired your collection today?
Well, we started off with color. We wanted to use neutrals with pops of red – really cool, kind of like a Brooklyn vibe. It was like 90s Brooklyn street style so it was kind of like, 'OK, we'll do the Timberland. We'll do the hairstyle. We'll do the doobie and some really cool earrings, which were like doorknockers, and we distressed them to have that vibe, like an ancient kind of look.
This season what was so special was that we wanted to just highlight the outerwear. We've been known for really cool outerwear, novelty intricate pieces, and I just wanted to bring that to the table this season. We added some logos and mixed media and a lot of really cool, popular silhouettes, and from there I was like, 'OK, let's go!'
What was the first popular item you ever designed?
It was the Varick Shawl. That silhouette was our first silhouette. That silhouette has been a signature to us. It's one of our staple silhouettes. It's called the Varick Shawl. It's been worn by Beyoncé. It's been worn by Victor Cruz. The celebrities love that silhouette so it was kind of like, 'Oh, OK, it kind of just happened… and came together,' and I was like 'Oh, OK, I'll own it. I like it. I love it.' And I just kind of built off of it.
The Buffalo Checked print has been our signature too, and we kind of built our logo around it so, it's been a great thing!
If you could design for any celebrity, dead or alive, who would it be?
I like designing for all celebrities. I don't really have a particular, but there's a few I love what they do with designers. They kind of take it and make it their own.
I love the rebellious girls that just kinda do their own thing. I'm not going to name any names, but I just love a woman that has that confidence — that just takes a piece and makes it her own and does her own thing with it. That's the Romeo Hunte girl. She's cool, tomboy chic, and yeah…
What piece of advice do you have for upcoming designers out there?
Always believe in your dream, work hard, and focus. When I first started out I started off with just a small collection and I kind of build on that. And I always believe in myself no matter what.