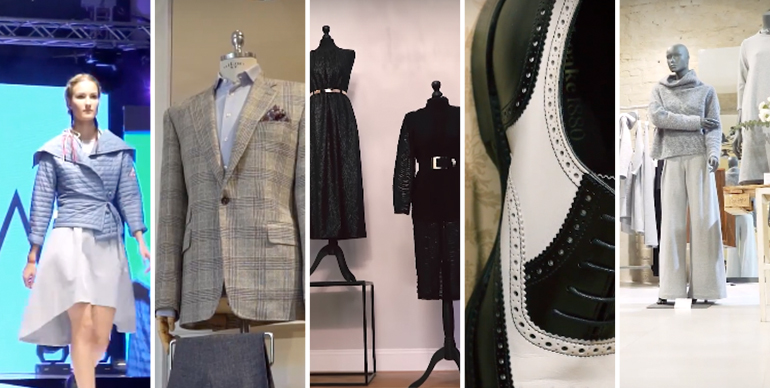 Check Out These Super Talented Polish Fashion Designers
Fashion has come a long way in the last few hundred years. Originally, designs and trends varied drastically from one country to another because of distance. It was impossible to know what was happening somewhere else until the news had time to travel. Today, everything is different. Thanks to technology, we now have the ability to share aesthetic ideas across oceans. This has created an international fashion community where designers draw inspiration from companies across the globe. Viral internet content has also fostered an atmosphere in which anyone can become an international star with the right blend of skill and timing. Recently, Poland has been making headlines as one of Europe's most promising fashion frontiers. Our Europe team has been checking out the Polish fashion industry for a few months now. Here's a fashion-forward glance at what they found.
7th WROCŁAW FASHION MEETING
Wrocław's bi-annual fashion festival draws European fashion designers from all across the continent for a week of dynamic, colorful showcases. The event's seventh meeting this past fall featured popular designers from Poland, Germany, and France. Standout runways included vivid, vintage-inspired tunic dresses from the French label Pygmees, the "Dark Dolls" collection by Russian designer Unicorno, and Joan Miró's famous fashion line for older women. Check out these collections and more in this exclusive behind-the-scenes look!
BUCZYŃSKI INDIVIDUAL TAILORING
Buczyński Individual Tailoring offer a beautiful selection of traditional business outfits at their classic Warsaw shop. This Polish fashion company have a rich heritage. They're famous for crafting traditional suits in perennial colors like grey, blue, and black. Though office fashion is becoming increasingly more casual, the folks at Buczyński feel there will always be a place for the sophisticated, tailored suit. If you like basic business fashion with a tinge of extra color, check out their beautiful showroom. If you already own a suit but need it tweaker, Buczyński Individual Tailoring employ some of the finest custom tailors in Poland.
ROBERT CZERWIK
Robert Czerwik has been designing wedding dresses for over six years. He also works on semi-formal collections for women. The skill that sets him apart is his unique ability to re-invent recognizable designs in new ways. In his latest collection, Czerwik plays with the vintage fabric tassel. His new line of black dresses is covered in ornate gold lace and hemmed by fringed tassels. Each of the tassels is combed back into a curl instead of hanging down like they traditionally do. Styled this way, they look a little like ostrich feathers. Join our representative Patrycja in Czerwik's showroom to see more of his imaginative work.
LOAKE
Loake is not a Polish fashion company. Their rich tradition in classic shoe-making began in the English countryside. Three brothers started the business in the early 20th-century distributing brogues in Northamptonshire. Soon, their sturdy shoes were the talk of the county. The Loake brothers used the Goodyear technique to make their shoes. It allowed them to replace worn soles multiple times, extending the life of a single shoe for dozens, even hundreds of years. In some cases, their shoes have lasted for generations. Though Loake was originally founded in Kettering, they now have showrooms throughout Europe. They're definitely a shoe-maker worth checking out.
THE CAT-CAT STUDIO
Polish fashion designer Anna Lachowaska designs for all women. She founded the Cat Cat Studio as a place to hone her craft. Lahowaska says she aims to design outfits that make women feel comfortable. She'd rather make clothes her customers can use in their own wardrobes than debut an exclusive collection. When Patrycja visited the Cat Cat Studio to see what it was all about, Anna had her try on a few signature designs. Check out this video for a closer look at those liberating designs.
Keep your eyes on Poland. The country is producing incredibly astute designers and showcasing some of the best niche brands on the continent. If you want European style outside of Paris, London, and Milan, it's the place to be.