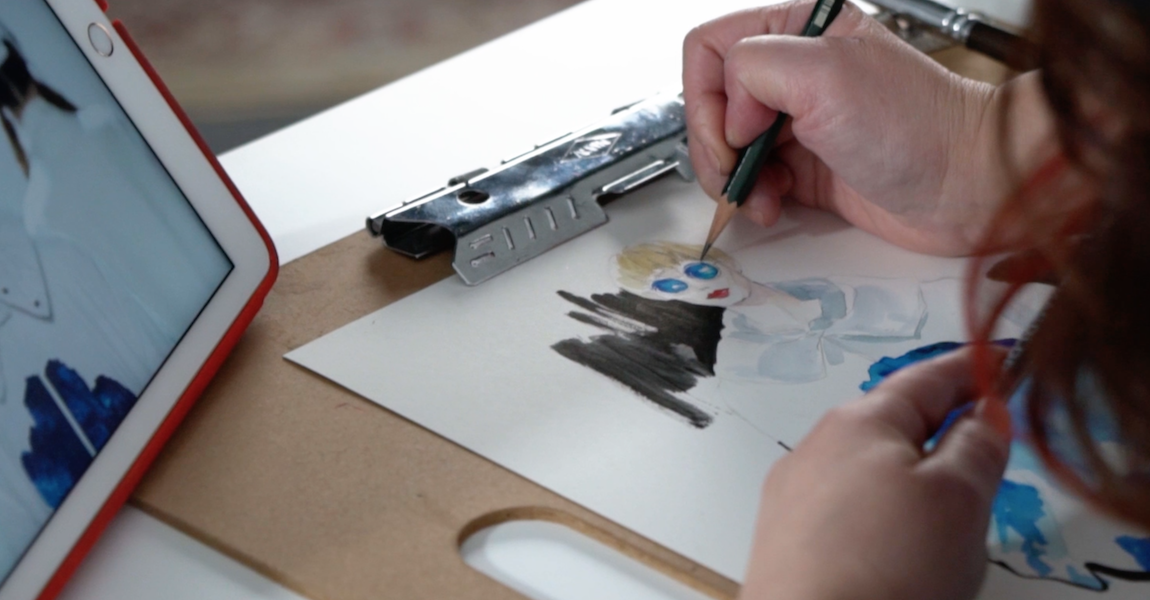 Up Close and Personal with Fashion Illustrator Nina Edwards – Exclusive Interview
What inspires art in the fashion realm? For Nina Edwards, a New York-based fashion illustrator who works in both digital and watercolor illustrations, it's the colors and materials that she has to work with, combined with the live runway shows that she gets to experience. The artist has lived and worked in big cities all around the world, which inspire her worldly and distinctly metropolitan aesthetic. (It's no wonder her professional moniker is Metropolitan Miss.)
The Richard Magazine team met Nina at this season's Style Fashion Week, where she was displaying just a sampling of her impressive works, and just had to invite her back to our studios for an exclusive up close and personal interview.
When Nina arrived at our office, she unpacked a suitcase full of her latest straight-from-the-runway creations – including a sneak peek at her new digitally-created fashion city portraits. In these works, which she is incredibly proud of, the artist pairs a top designer with an international destination to match its mood – and the results are incredible.
In addition to her illustration and graphic design work, Nina Edwards also teaches at Pratt Institute in Manhattan. There, she is not only seeing the next generation of art talent coming to life – but she also keeps pushing her own talents. The artist is taking on more digital software programs for her work, and uses devices like her iPad even with her paper sketches.
So what makes Nina's personal work so special? The artist was born in Taiwan, and uses her heritage as an inspiration for her work – no matter which big city she's currently working in. "To me, color is very important, and I try to use a lot of colors. And sometimes, I will bring in black ink into my watercolor paintings," she tells us. "I think with my Asian heritage, using black ink will kind of make it different from the other Western artists."
Be sure to catch our full interview with Nina Edwards in the video player above, and keep an eye out for more exclusive art content coming soon!
More exclusive interviews. More from Style Fashion Week.