You might be wondering the same thing I was when I first came across nail masks. What exactly are they? Well, they are like those popular sheet masks for your face, except they address different concerns. Simply put, nail masks aim to repair nails that aren't doing too hot.
Did you know that there are different nail treatments to heal all kinds of specific problem areas? Which means anyone and everyone can benefit from a nail mask. If you have brittle nails, shriveled or teared cuticles, nail discoloration or dry, cracked hands – you need to try out one of the following nail treatments as soon as possible.
---
Hydrate your cuticles.
Try: Le Mini Macron Rose Nail Mask, $4.50


Shop here.
Are your nails always brittle and chipping? Then you need some major cuticle hydration! This fun pack comes with 10 individual nail pads to wrap around your fingertips – so you can even treat your cuticles as you type (or possibly even text)!
---
Lighten up yellow nails.
Try: Etude House's Help My Finger Nail Finger Pack, $1.30 each

Shop here.
Ah, the unfortunate side effect of dark nail polish. Thankfully, this nail mask moisturizes and brightens frequently colored, dull fingernails. If you are a nail polish junkie, I highly recommend this treatment.
---
Soothe your hands with nutrients.
Try: Sephora Collection Avocado Hand Mask, $6


Shop here.
Chances are you love adding avocado to your diet, since each delicious spoonful is packed with nutrients. Same goes for the ingredient as skincare. This hand mask glove set soothes skin irritation and softens, repairs, and moisturizes.
---
Repair nail beds and cuticles.
Try: Kocostar's Nail Therapy Multivitamin Nail Treatment, $20 each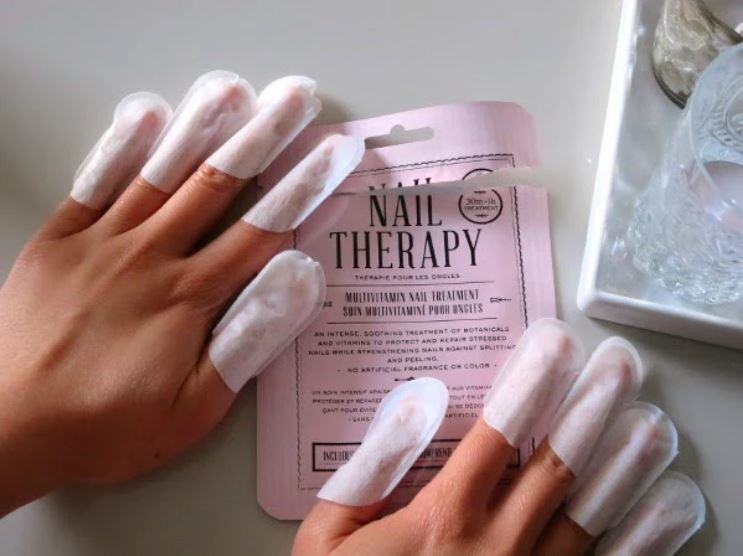 kocostarusa.com

Shop here.
This product is "an intense soothing treatment of botanicals and vitamins." The main focus of this nail mask is to protect, repair, and strengthen stressed nails against splitting and peeling.
---
Moisturize hands and nails.
Try: Paraffin Wax Works' 10 Minute Hand Treatment, $10.79


Shop here.
This treatment not only helps moisturize your nails, but your hands as well. It also provides relief for sore joints and muscles. Talk about a multi-tasker!
---
Fight signs of aging.
Try: NAILS INC. Shine Bright Moisturising & Anti-Aging Glove Hand Mask, $8


Shop here.
Formulated with hyaluronic acid and ceramide, this mask helps combat visible signs of aging for a more youthful and radiant glow. This mask is filled with nourishing and pampering ingredients, like collagen and multivitamins, including retinol and vitamins B3, B5, C, and E.
---
More popular beauty products.
—

Alicia Drelich