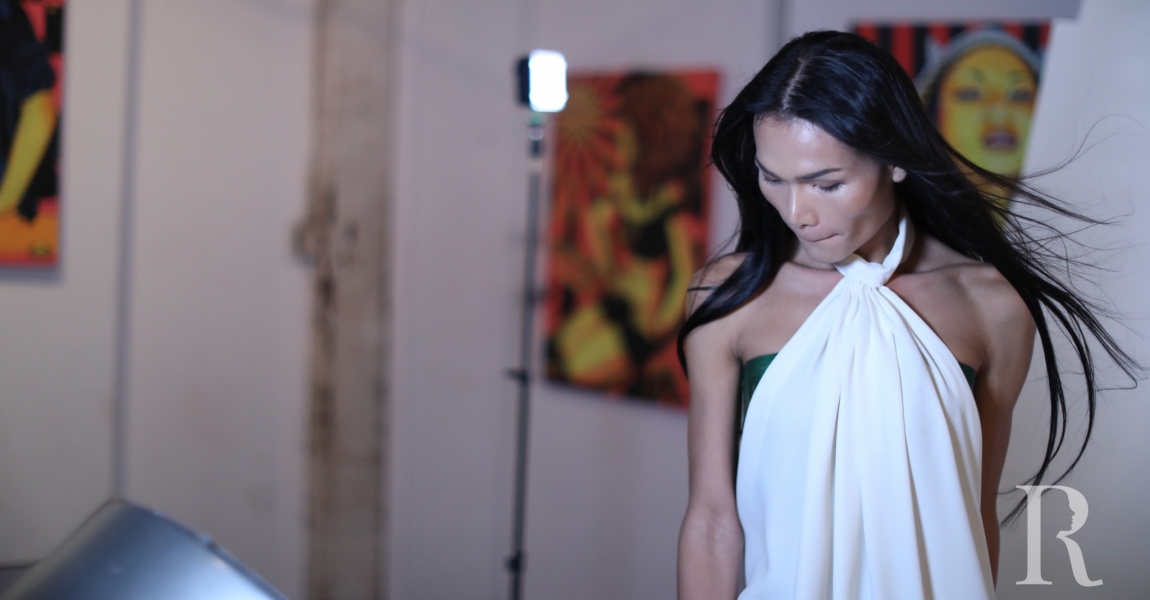 From Buddhist Monk to Transgender Lingerie Model, This Is Mimi Tao
At an early age, Mimi Tao chose to go away and learn the life of a monk in her homeland of Thailand. After 6 years following strict rituals of faith, she accepted that her journey as a man was over. She was transgender and wanted to live her life as a woman. That discovery took her from familiar jungles to the concrete towers of New York City, from struggling fashionista to one of the fashion industry's inspiring role models for transgender people across the globe. We had the great privilege of sitting down with Mimi following her NYFW debut to learn more about her incredible story.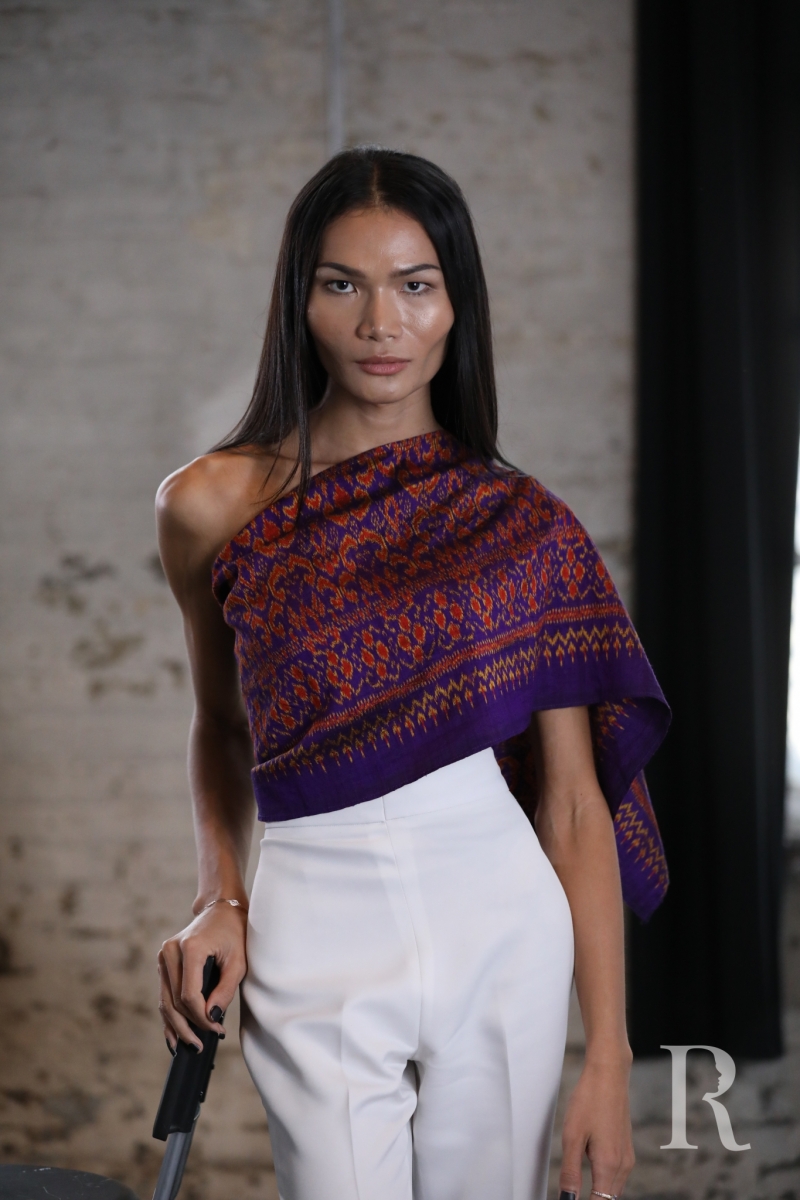 So, you're coming up on the end of your first trip to New York. What have been the highlights for you?
– Oh. Many, many things! But I can say the biggest highlight for me was New York Fashion Week. I had the chance to work with many designers, so for me, it's excellent.
And what was it like, walking for Marco Marco at NYFW?
– Yes… Walking for Marco Marco is, like, my first show in New York Fashion Week. And I can say it is my first time in New York too. Oh, there's a lot to say. New York Fashion Week is, like, the best fashion week in the world. New York City is the capital city of the fashion world. And Marco Marco's collection is wonderful.
I didn't know that all the models who walked with Marco Marco… They were all celebrities! I went back to my apartment and my friend said, 'Mimi! Why didn't you take a picture with them? They are all celebrities!' And I was like, 'Oh really? I didn't know!'
Is the fashion industry here a lot different from home?
– Yeah. The fashion industry here is very different from my home. I met many designers, many kinds of models. I met a senior model – she is like, 83 years old. I met part-time models, dressing gown models. Many kinds of models. Fashion here is very different from Thailand.
What's one thing you've learned here you didn't know before?
– One thing I didn't know before is about food. When I went to a restaurant, I would order three different things. And they would all come out in very big portions. It's new compared to my culture because we eat a lot of things together and we share together. But here, I order three different things and they each come as big meals. I think, 'I can't finish them.' When they come, I'm like, 'Oh! Can I have this To-Go, please?'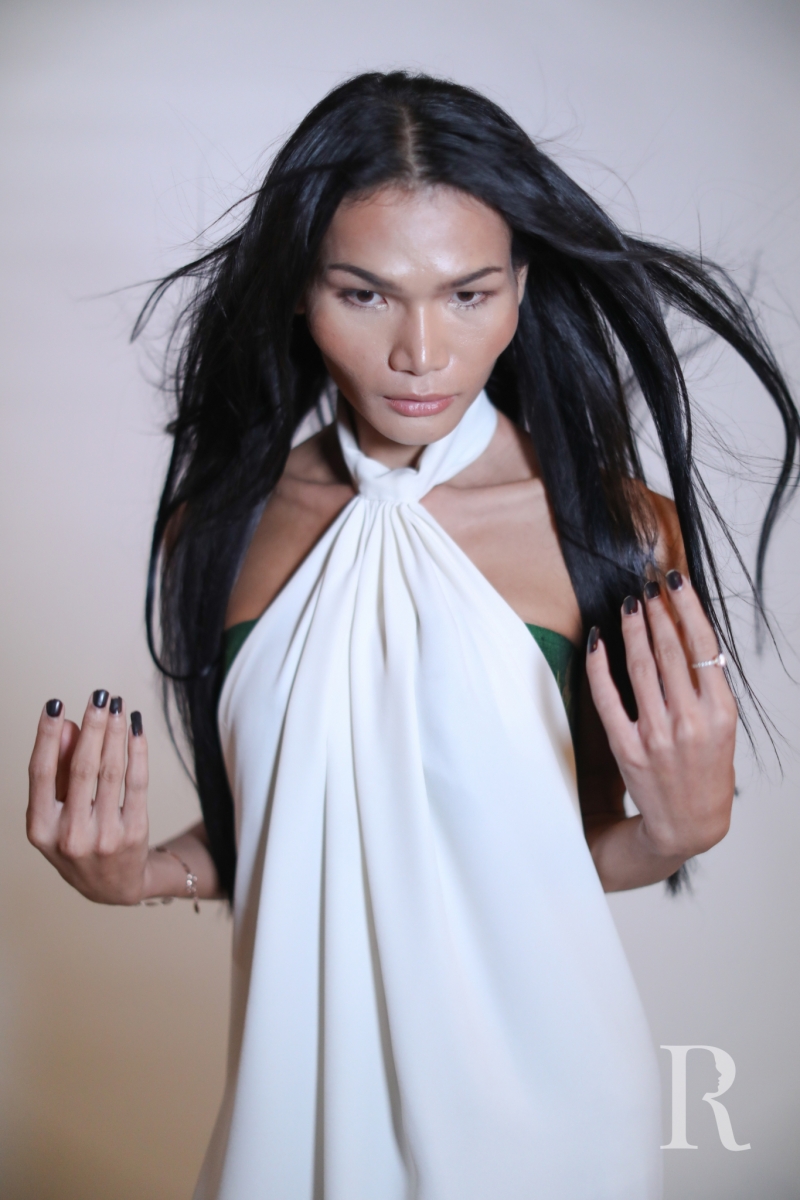 So, your journey to becoming a model was pretty unique. You used to attend an all-boys school for monks! How did that happen?
– My journey to being a model… Yeah, it's very, very unique. It wasn't easy. I used to be a boy monk. When I was really young, I grew up in a poor family and they always send the son to become a monk, to study, because they have no money to support them. But when I decided to become a monk, no one commanded me to. Ultimately, I decided myself. And I love that.
When did you first realize you were truly a girl?
– When I was in the temple. The temple is a very peaceful place. And, I found myself in the temple. Because one of Buddha's teachings is, you need to accept yourself. If you can't accept yourself, who is anyone going to accept you, right? So, when I was in the temple I had a lot of time to be with myself. I had a lot of time to think what I want to be, where I want to go. And, it just began to come out.
How did growing up in the temple affect your outlook on life?
– My 6 years in the temple made me a very positive person. When bad things come to me, when all the suffering comes to me, I know how to endure it.
Were there friends you could be honest with? How did they help you through that time?
– Friends in the temple. They were not merely friends at that time, though. We were a kind of big family because in the temple we came from many, many different families and supported each other. We cared for each other. In the temple, it was like…. It's a very big temple in the jungle. So, we all held each other like a family.
Then, what led you into modeling?
– I decided to be in the modeling career because, in that time, people like me in my country were unaccepted. But models were very accepted. Modeling is the accepted job. Everyone accepts models. They say, 'Oh! You are a model! You are on the cover of a magazine! You walk for the fashion show, right?' I like to show them I am a transgender but I can be a model. I can show them what I can do in this industry.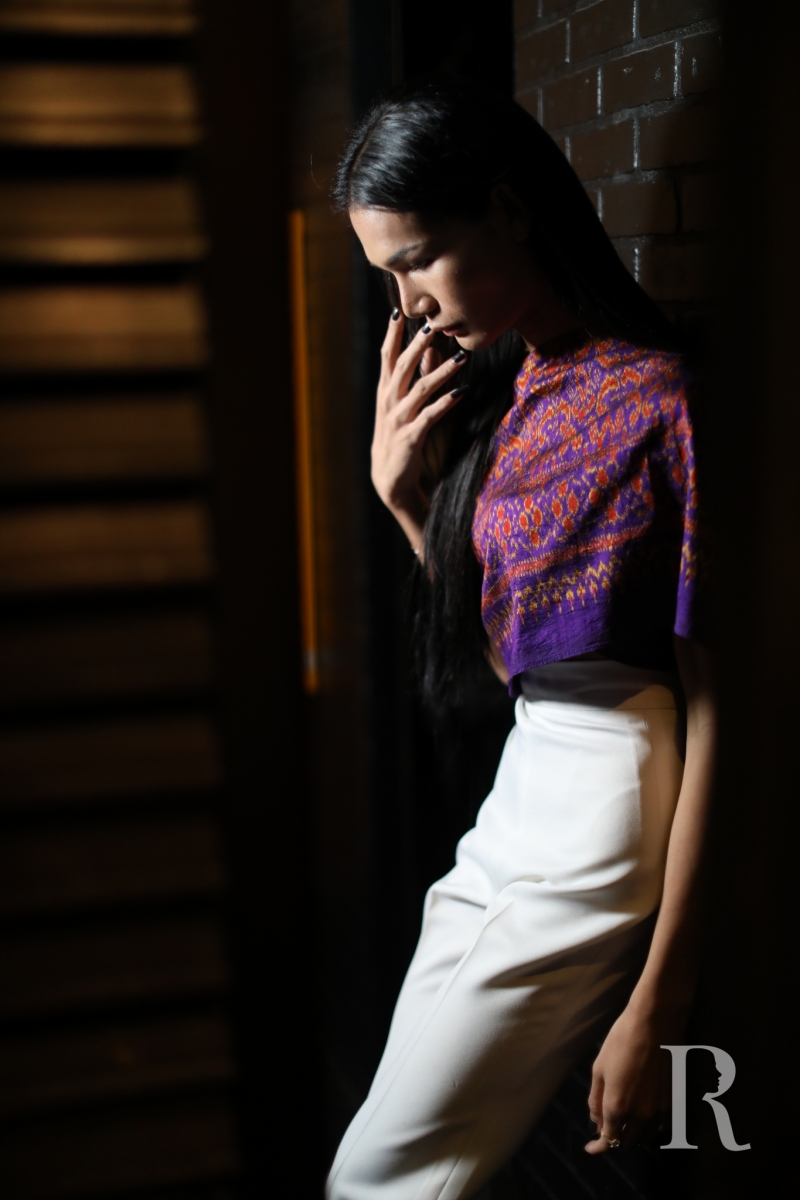 How did you get started?
– Starting a modeling career in my country was hard. At first, I was struggling in Thailand so I googled the modeling industry in New York, Paris, Milan. I sent my profiles there. They responded and told me to just come, but I was poor. I didn't know how to go. So, I tried to go another way. Singapore is very close to my country. I found a modeling agency there and sent all my profile materials there. At this point, I have no money at all, so I borrowed some from my mom. Then, funny thing. I had never been out of the country before, so when I went to the Check-In counter and told them I wanted to buy a ticket to Singapore. They laughed at me, obviously, because you don't buy tickets at the Check-In counter!
Then, once I had bought the ticket, I had only had 43 Singapore dollars in hand. Then I fly to Singapore and I get stopped in the immigration office because my Thailand passport still says Mister. Once I get through, I spent a fortnight in Singapore sleeping at a public toilet. But now, I am here.
Did you face difficulties in the fashion industry as a transgender model?
– I faced many, many difficulties. At the beginning, many people looked down on me. They said, 'Transgender? No. I don't want transgenders in my show. They make my show look unprofessional.' Or something like that. So, I had many bad experiences. But I need to say that we must push through bad experiences. We need to get people to….
I had an experience in Thailand. I went to an event, big event, and this was after I was famous, and they said to me very loudly, 'Sorry. Who event you? We don't let lady-boys or gays into this event.' And I felt like, 'What?' I said to her, 'Oh. I came with a designer. She invited me.' So, she ran to talk to the designer who I came with, and then she came back and said, 'When you are finished with your picture, please leave the event.' I didn't know what to do. All the media stopped and looked at what we were talking about. And she said to the media, 'Do not report this!' And no one reported this. I think it's not fair for me, not just for me, for all transgender models. I mean, I'm already famous in Thailand and they treat me this way.
Before you're successful, you need to push past many difficulties. You need to pass all the hard things that come at you. People looking down at you. People not wanting you. But we need to do the best, what we can do.
But you persevered. What was your first big break?
– My first opportunity to model here in New York at fashion week was when my agent told me, 'Mimi, you need to walk with Marco Marco.' I said, 'Yes! Really?!' I know Marco Marco for a long time before I came to New York. His shows were outstanding and really unique. They are so popular in my country. So, when my agent told me, 'Mimi, you have the chance to walk with Marco Marco,' I felt like one of my dreams had come true.
New York Fashion Week is like, one of my biggest dreams. And not just me. All the models around the world – all the beautiful girls around the world – come to New York for the same reason. New York Fashion Week. It's a wonderful thing happening for me right now.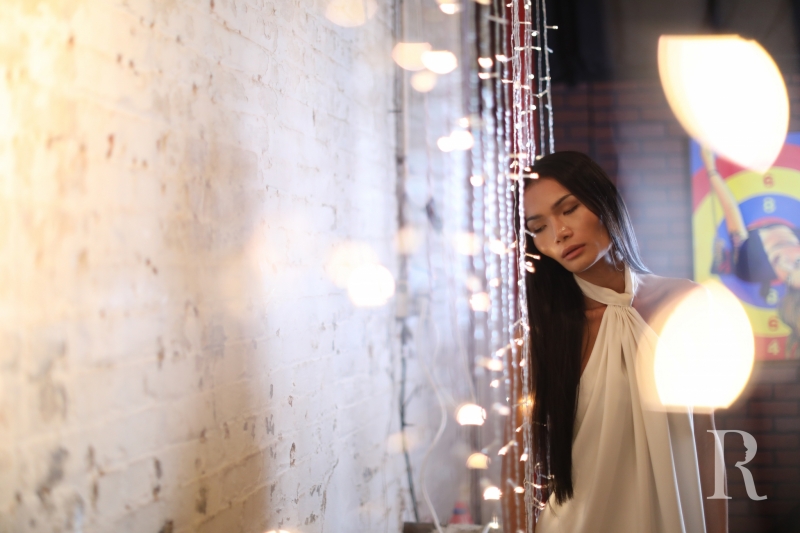 That's an incredible journey. Wow. So, what are your future plans now?
– Right now, I want to focus on my modeling career, but in the future, I would like to have my own brand. I want to be a designer. Not just for me, but I would like to support my people. I would like to support my people in my country. It's like what I'm wearing right now. It's my design. It's made with Thai silk. It's a handmade silk. So, people in my country know how to make very beautiful stuff like this. Because in my country they are very poor. They don't have the opportunity to show their beautiful work to the world. But when I am famous, when I am successful, I believe I can speak louder and help them to promote their work and make more money.
Any plans to move to New York or LA? Or will Thailand always be home?
– I would like to move to New York because it is the city of opportunity. It's about fashion here. I feel like New York is a good place for me because I met many people here. I met designers, models. I love Thailand and it will always be my home, but in Thailand, I didn't have an opportunity to work in the fashion business so much.
I have been a model for 7 years. I went to casting in Thailand, every casting event, every season of fashion week, but I haven't had the chance to be in that many shows. I'm here for only one month and I got 16 shows in New York Fashion Week. It makes me realize, 'Oh! I should move to New York soon!' But I would also like to work in Thailand since it is my home. My country. I would love that.
Could you share some inspirational advice for other transgender people out there?
– I would like to tell them to follow their dreams. Don't give up on your dream. Step out from the shadows. Don't hide yourself. Just tell them and show them what you can do. What you can be. Accept yourself. Like, I'm a girl. I'm a real girl. And I need to say that, you need to show them all you can do. And the most important thing is to accept yourself. If you want the world to accept you, people to accept you, family to accept you, you must learn to accept yourself.