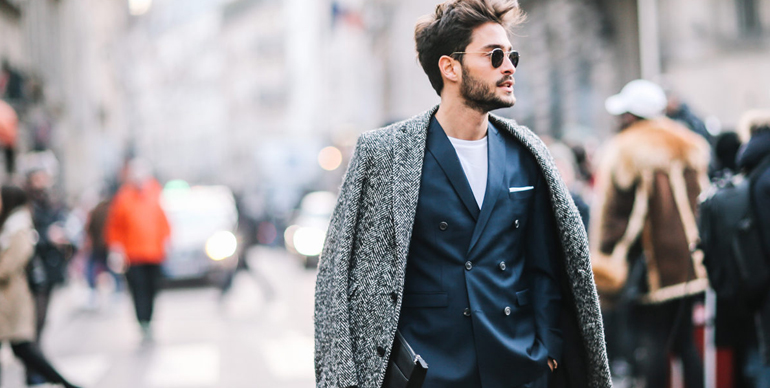 11 Casual Outfits From Men's Fashion Week Paris That Will Up Your Style Game
Every men's fashion week brings with it a whole new slew of looks to get used to. It's the truth. Despite what people say about men and their inability to dress nicely, the streets of New York, London, Paris, and Milan are always full of guys sporting extravagant haute couture outfits. This year's show in France's esteemed capital was no exception, proving yet again that some gents really have the style sense to rival women's fashion when they put their minds to it. These are the men you should follow this coming season and what they wore. Take notes, pick your favorite looks, and start amending your wardrobe accordingly.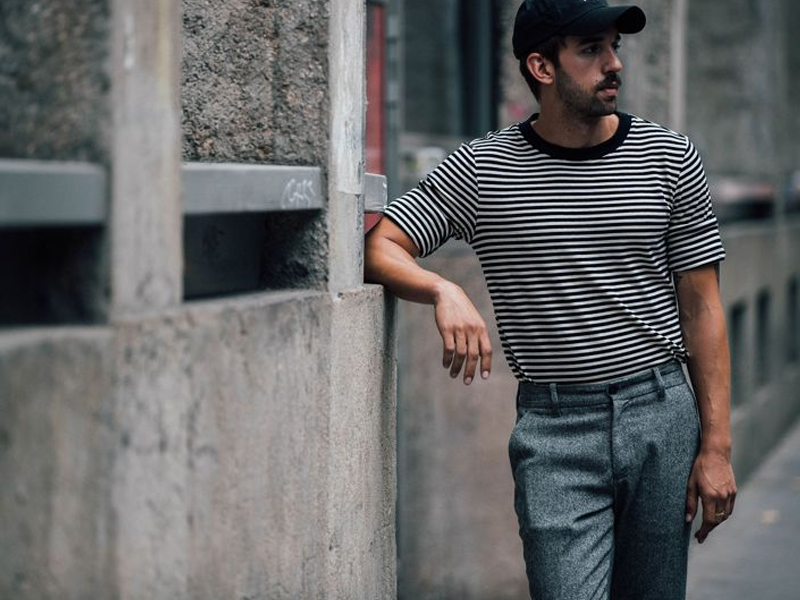 CASUAL WOOL TROUSERS
You need a pair of slim, textured wool suit trousers this fall. They're excellent for formal events, perfect for the office, and newly acceptable with a tee and baseball cap. It seems casual fashion isn't taking over formalwear after all.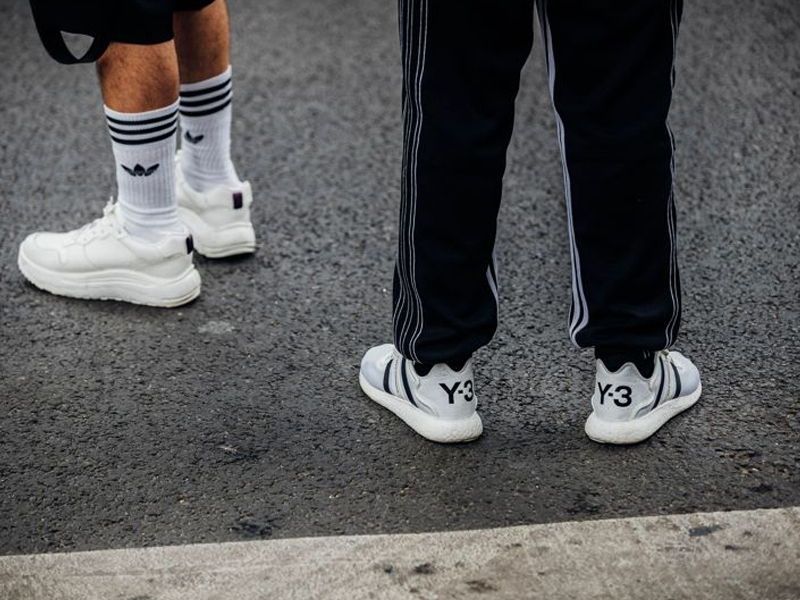 2000s ADIDAS
They didn't completely disappear, but no one's been wearing those classic Adidas track pants with the vertical stripes seriously for years. In Paris, they were everywhere. Time for a trip to the local thrift shop.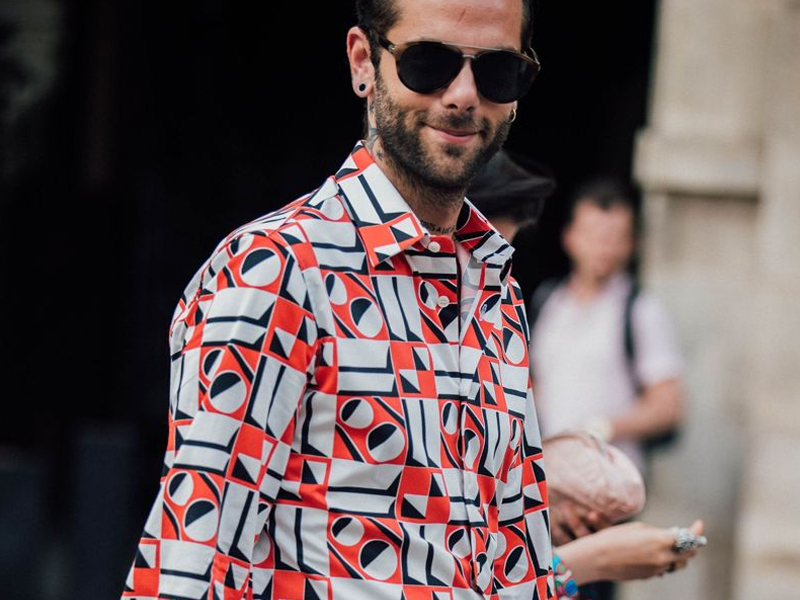 NO BELT
It can be a little awkward, but tucking in your trousers is cool again. You knew that. It's been a gradually developing trend since 2015. The latest twist on that perennial theme is to do it with no belt. So, are you man enough?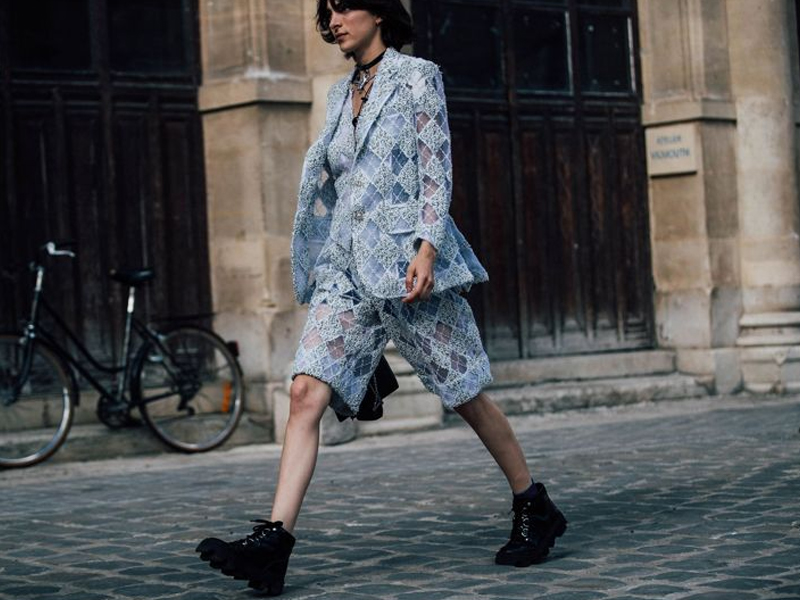 LACE SUITS
In mid-June, we Instagrammed the infamous lace-patterned suit believing it was a joke. Sadly, it's not nearly the dismissible fad we once thought. You don't have to wear one yet, but keep your eyes open. It might not be long before you do.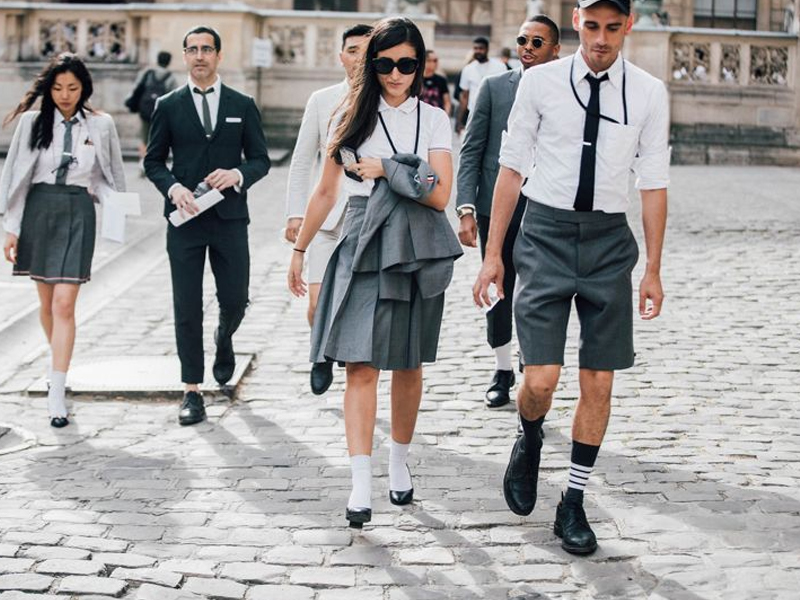 FLANNEL SHORTS
And you thought no one liked school uniforms. This shorts-and-a-tie ensemble is incredibly European, but don't write it off as an Old World fad. Perhaps professional-grade shorts will be the next step in deconstructing traditional workplace attire.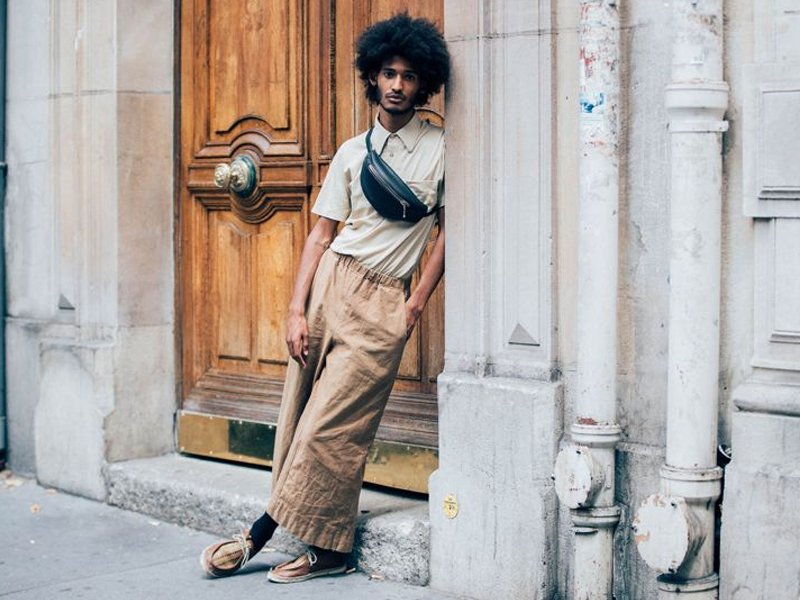 WIDE-LEG PANTS
These trendy trousers have been on the women's style radar for months now. Seems about time the men stepped up and took notice. It's like bell bottoms and parachute pants had a child. You'll treasure these on your final trip to the beach this summer.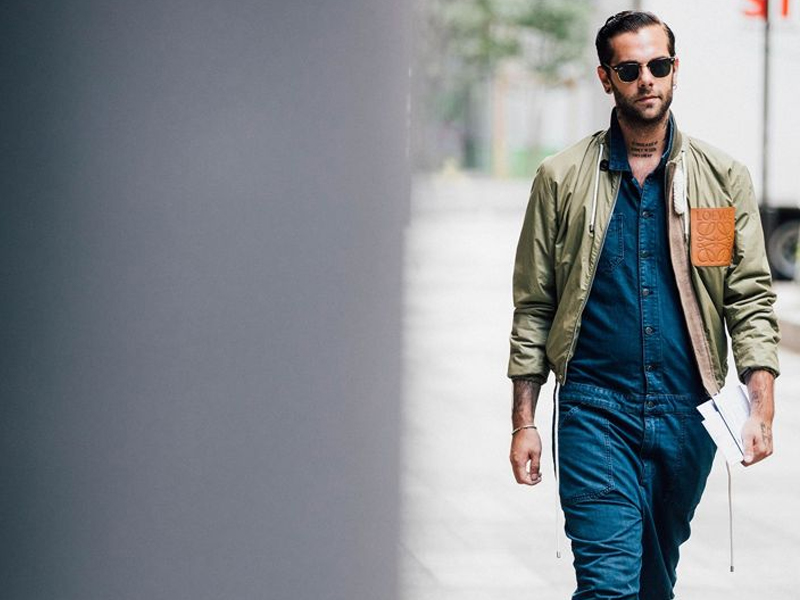 CHAMBRAY JUMPSUIT
Call it a romper, call it a onesie. Maybe you think it deserves the title of "Most Ridiculous Trend I've Ever Seen." Whatever the case, it's time you stopped tiptoeing around the outfit and gave it a wholehearted try. Jumpsuits are in and there's no turning back.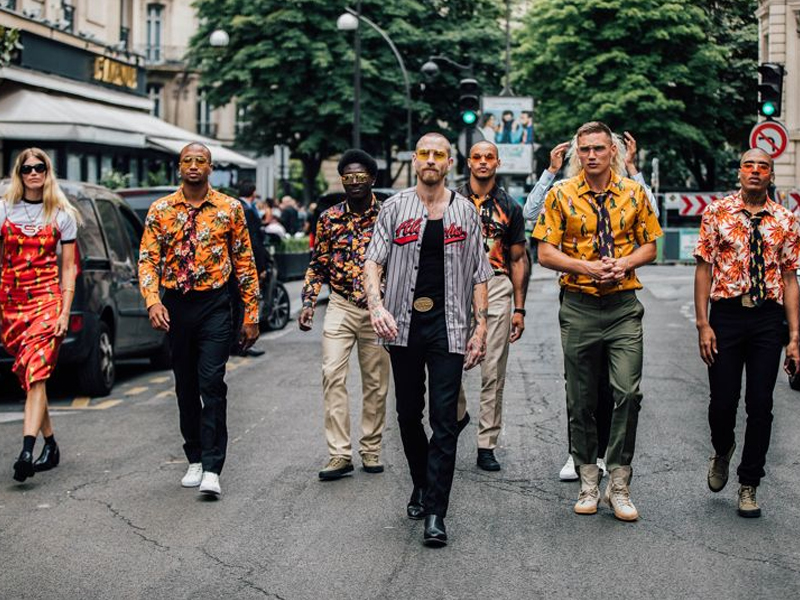 TROPICAL BUTTON-DOWNS
They aren't nearly a mid-2000s Banana Republic dress shirt, but some a pretty close. Essentially, Dexter Morgan fashion is finally taking off thanks to the Noughties renaissance. It's time you embraced a little millennial Miami too.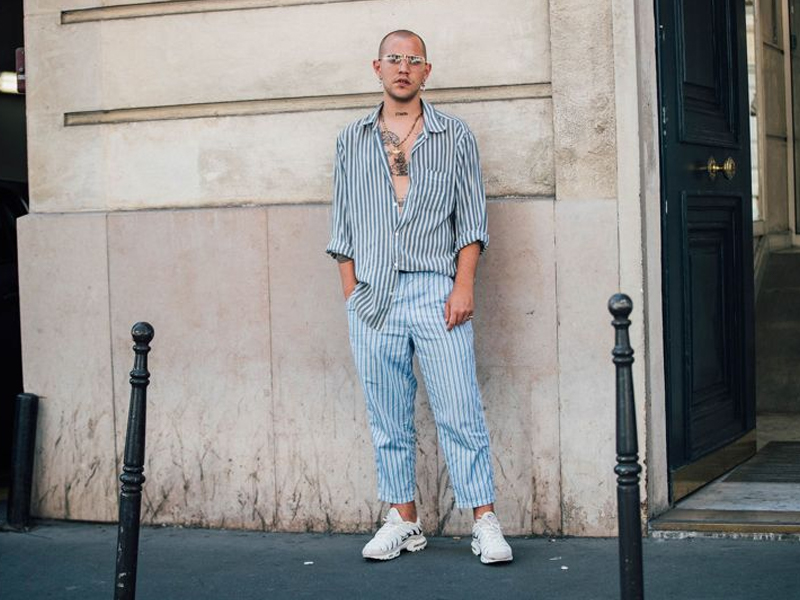 PAJAMA PINSTRIPES
Cutesy got tough in Paris. Remember those stripedy PJs kids used to wear? Dad probably wore them too while you went to bed covered in Thomas the Tank Engine or Bob the Builder. Those dreamy pinstripes are badass now. Wear them on the street and flaunt your masculinity.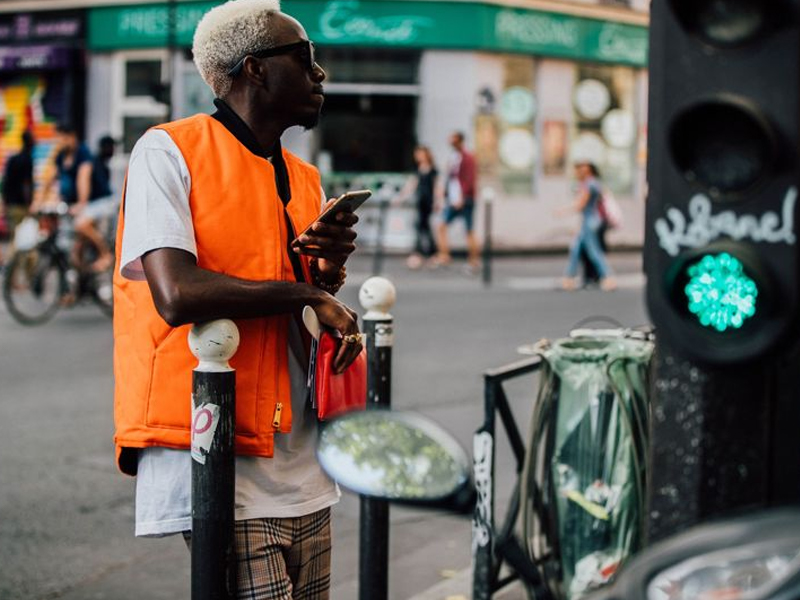 CONSTRUCTION SITE CHIC
All those punk-inspired industrial outfits from last year's runway have brought on a whole new aesthetic for the working man. The new style includes trendy Carhartt overalls and neon orange traffic vests. Who knew construction could be so cool?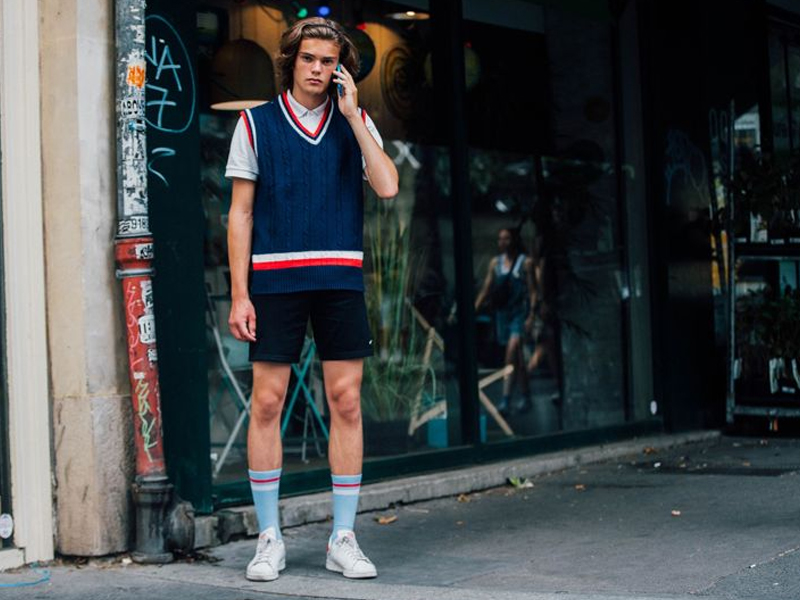 SWEATER VESTS
Finally, the moment you've all been waiting for. Gentlemen, it's time to welcome back an old friend we haven't seen properly worn since the 1980s. Give it up for the sweater vest. Wear one to your next dinner party.
There were plenty of options for everyone at Paris Men's Fashion Week. Street style made each outfit a little more accessible. The world deserves a new generation of well-dressed men. Be a part of the revolution.