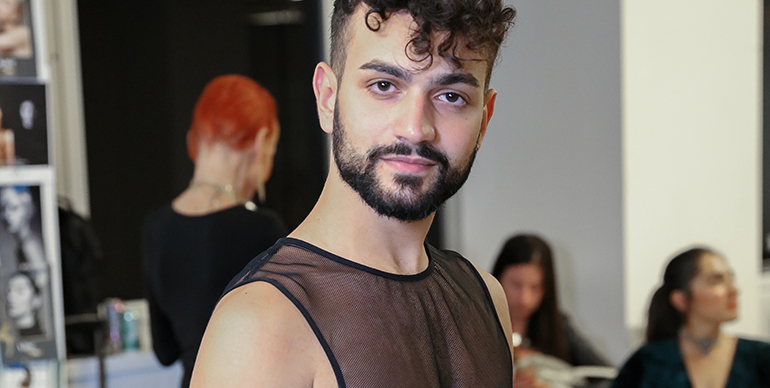 Exclusive Interview At Desert Flower Show With Matan Shaked
Matan Shaked has accomplished a lot in his young career. At only 21 he has his own established studio, a recognizable and respected brand, and a NYFW debut under his belt. Richard Magazine caught up with the Israeli native after his Desert Flower Runway Show in New York City last night to hear a little more about what inspires his gorgeous designs.
You were the youngest student at Shankar and started your own brand at 18. Was fashion always your dream career?
Yes. My only passion.
Why wedding gowns?
The theme of this collection is new for my brand. It's casual, more ready-to-wear. In Israel and Tel Aviv, I made very couture bridal gowns and evening dresses. This is a new line for New York. Something new for the USA since ready-to-wear and casual are quite popular for street style. A little more than just evening gowns this time.
Do you have a studio in NYC?
Oh, I dream about having a studio in New York City! I hope sometime in the next year that can happen. But for now, I ship my pieces across the world from my studio at home. But yes, I really hope I will have my studio and private showroom in New York City soon.
How long are you in New York City for?
I'll be here until Sunday. I'll have been here two weeks by then. Then it's back I go back to reality, to my reality at home. To my amazing studio and the wonderful world I have there.
What inspires your collection?
This collection is really about my story. My life story. A young dreamer in a big desert who just dreams about a flower. It seems impossible in a big desert. Everyone wants a garden like me in the desert in the south of Israel. Really, all my life I've dreamed about having flowers in life, and today that dream has come true. I've come here and done a show! This is a flower to me because I worked so hard for many years to get where I am today. I may be a very young designer, my studio only just opened in 2016, but I have still spent lots of time working very hard to be opening for New York Fashion Week. It's very exciting to see things blossom so much at only 21.
Check out Matan Shaked's Spring 2018 collection here. To see more of his work and contact him, check out his website and Instagram.