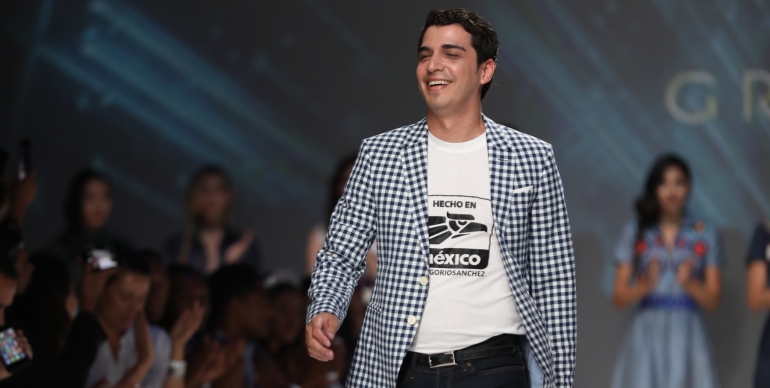 Runway Interview With Gregorio Sanchez
Gregorio Sanchez is known for his impeccable style. Ever since his first official collection debuted at Mercedes Benz Fashion Week Mexico, his name has been synonymous with fashion-forward ensembles designed to glamorize the modern woman. The depth of his work is also famous. As one can clearly see when observing his work, there are layers of metaphor and vision behind every Sanchez creation. We caught up with the designer after his show at Style Fashion Week to learn a little more about what inspired his Spring 2018 line.
When did you first realize you wanted to be a designer?
Well, when I was a child I liked to draw. I used to draw for my sister when she would go to fashion classes at school. I drew so well, you see, she asked me, "Oh, could you draw this for me?" So, I realized I had some sort of skill making drawings. So, since I was a child, you could say.
So, your sister inspired you to be a designer?
Yeah.
What inspired your collection today?
You know what, there wasn't a specific inspiration per se because I'm not the kind of designer that has to go to artistic space to be inspired. I'm so simple. I just like to show Mexican culture. I like to use the handmade embroidery that we have in Mexico from all those magical groups living there, and that's what I like to showcase in my collections. That colorful Mexico, the culture, everything, you know? Because we can use our art in many ways, and I want people to see how it can be used in a fancy way.
Do you have a favorite thing from your collection?
No. Not really. I love everything.
What can we expect to see in the future from you?
Well, you will see Mexico for sure. And, you know, we are starting to sell in Asia. They love Mexican stuff there, you see. The bright colors. Most especially for the future, I will continue showing that. I'm proud to be Mexican and I want to show everyone that Mexico can be a bridge of cultures and things like that.
To see more of Gregorio Sanchez's work and contact him, check out his website and Instagram.