Stylish SuperM and EXO member Kai was announced as the global ambassador for Gucci ahead of the past Fall/Winter 2019 season. Now, the talented 25-year-old singer, actor, dancer, and K-pop idol has returned for another great set of campaigns for Gucci Eyewear, coinciding with the fashion brand's Spring/Summer 2020 accessories season.
Once again, Kai stars alongside Chinese actress Ni Ni in a stunning presentation of new sunglasses and frames. The campaign was created at the Amoeba Music Hollywood store in Los Angeles, California, and features both a photo shoot and short film by Harmony Korine, art directed by Christopher Simmonds.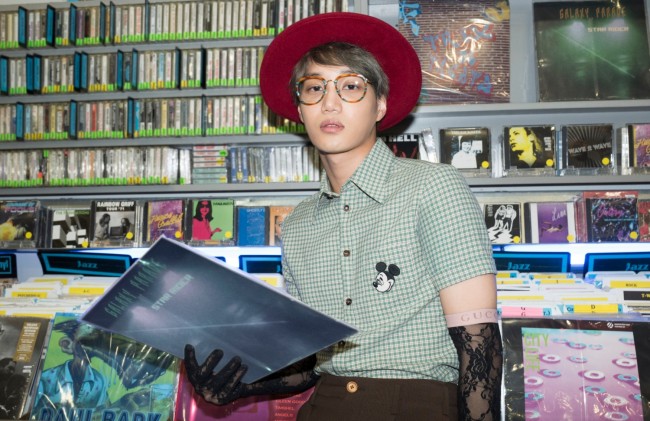 The colorful, retro backdrop – filled with all the vinyl, cassettes, and CDs you can imagine – was selected as a creative homage to pop culture's favorite teen movies of the 1980s. Of course, you know some great plot points went down at music fans' go-to hangouts!
"Going back to the 80s when the local record shop or video exchange would be a social nexus, the scenes unveil the new eyewear collection designed by Alessandro Michele," Gucci shared about the campaign.
The vintage references certainly translate into the collection itself, which consists of square-framed glasses and timeless aviator sunglasses styles. These eyewear offerings look perfect paired with dapper suits, checkered shirts, and colorful fedoras, all of which Kai rocks with ease. We're particularly into his dramatic elbow-length black lace gloves, which we may possibly never get over.
Click through the gallery below to view more photos from all of the latest Kai Gucci campaigns.
To watch NiNi and Kai's Spring/Summer 2020 Gucci campaign video, be sure to check out the clip in the player below.

More style news from Kai.
More news from the Gucci fashion brand.
All images via Gucci, Harmony Korine
—

Kristine Hope Kowalski