Getting your fashion fix most likely looks a lot different right now. But if you're willing to dive in to the newness springing up across the industry, you may want to check out the Dior podcast, "Dior Talks." The latest show to pop up in the style community is a talk series that combines cultural critique and feminist art with new fashion creativity.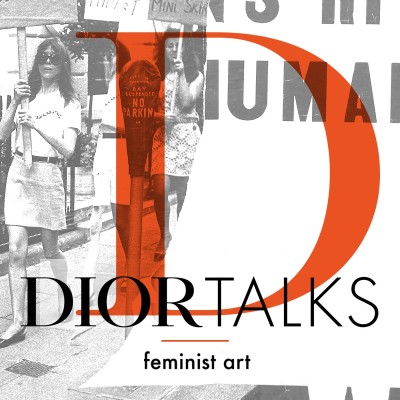 Since the "Dior Talks" series launch, the French brand has released four podcast episodes, all hosted by London-based writer and art historian Katy Hessel, that give listeners a behind-the-scenes look at the House of Dior. From sit-downs with creative director Maria Grazia Chiuri to interviews with other curators, artists, and writers, like Judy Chicago, Paola Ugolini and Tracey Emin.
"For Maria Grazia Chiuri, Creative Director of the Women's collections, the overlap between feminist theory and art has proved an essential element of her focus since her 2016 arrival at Dior," the brand shared about the series in a release. "It has offered her a unique opportunity to express herself and her core beliefs through the prism of fashion, to engage with a whole new generation, and, by instigating this empowered dialogue, to give an amplified voice to a number of women artists and writers with whom she has collaborated."
The Dior podcast series, "Dior Talks," is now available wherever you listen to podcasts, and on the Dior website.
You can check out the first episode, with Maria Grazia Chirui, in the media player below.

More fashion news from the Dior brand.
More Spring 2020 launches to check out.
All images via Dior
—

Sam Eggerling