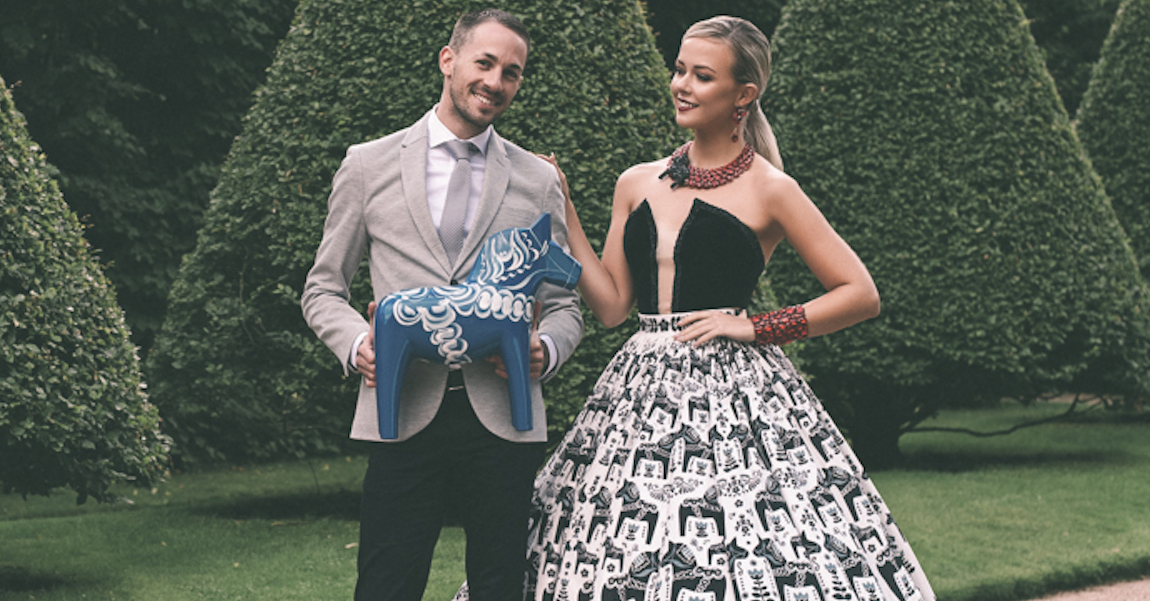 Aviad Arik Herman Shares the Magical Process of Designing Miss Universe National Costumes – Exclusive
Have you ever watched the National Costume portion of the Miss Universe competition and just marveled at the awe-inspiring ensembles each contestant wears to represent her home country? Well, Aviad Arik Herman is responsible for many of those wow moments, having designed one-of-a-kind creations for gorgeous competitors around the globe. Over his 15+ year career so far, the Israeli-born designer has also crafted theatrical looks and red carpet gowns that have appeared on some of the biggest platforms in the world.
Richard Magazine exclusively caught up with the designer to hear all about his involvement with international pageant contestants, and also learn about what inspires him as an artist. Be sure to check out our Q & A below.
What inspired you to start designing for Miss Universe pageant?
In 2010, I participated as a finalist in Sweden's annual fashion contest for promising designers. On the catwalk I presented a fashionable, elegant, and chic interpretation of a ballet tutu dress. This one stood out from the other contestants' ready-to-wear clothes, and got the media's attention. I did not win the first prize. But a few days after the competition, the Miss Universe Sweden organization reached out to me requesting that Miss Sweden 2011 would wear my tutu in the upcoming MU pageant in Sao Paolo Brazil, which she did. That is how my romance with Miss Universe had started.
How are your costume designs different than other designers' dresses?
This year marked the 6th Miss Universe pageant I am engaged with. What usually inspires me to design in that context of Miss Universe is to have an added value to the design, charge it with a meaning, a story, an important message. In the last couple of years I even took this to the next level, being motivated myself with taking leadership and making a difference in the world.
Together with my devoted Swedish friend Daniel Nilsson we establishing a unique charity foundation called "One Life Dreams", where the conceptual design work is cohesively planned together with a new cultural community charity project.
Photo: Lennart Sjoberg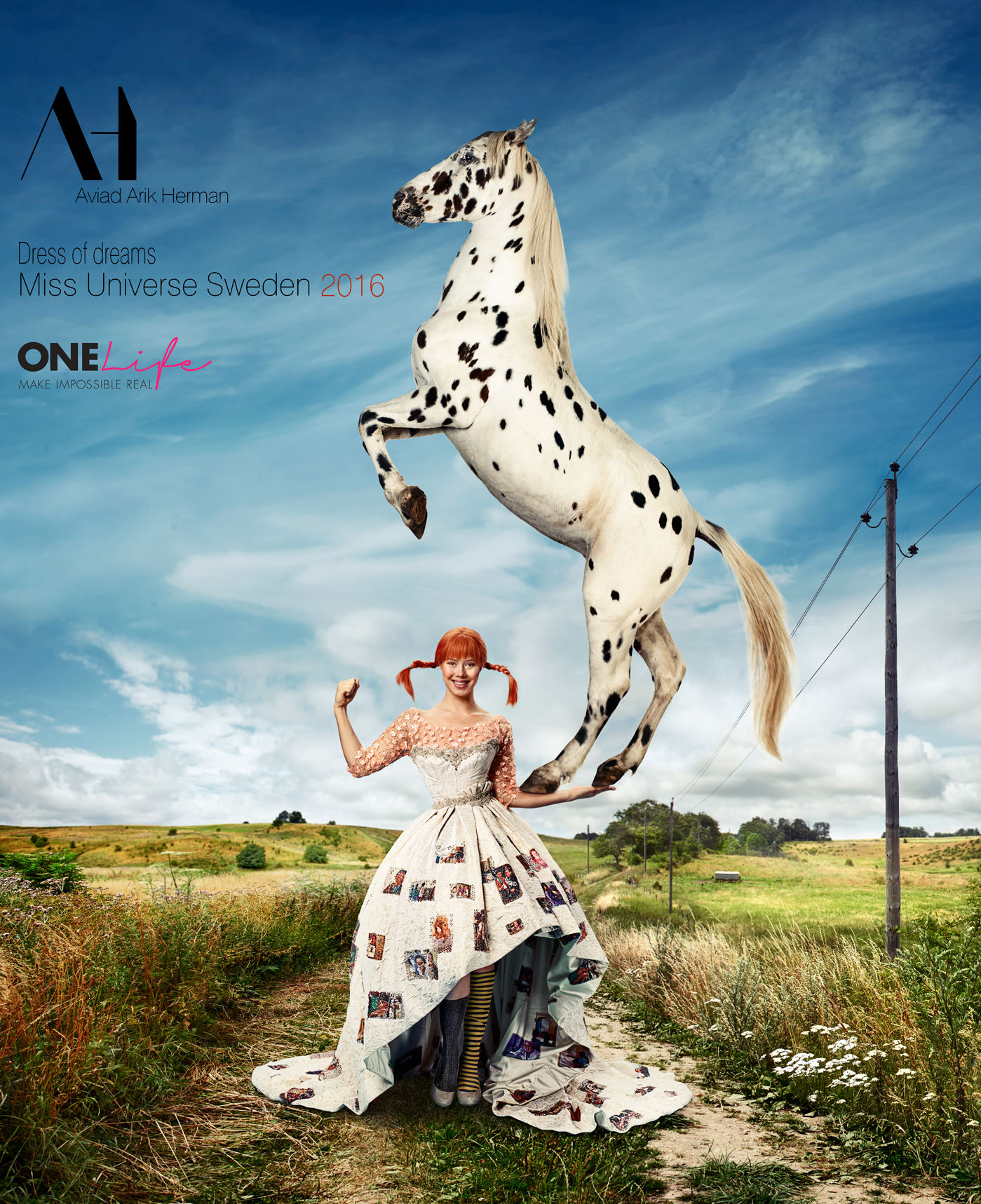 For example: First, the Swedish children character – Pippi LongStocking, on her 70th anniversary, was the inspiration for the 1st project we did last year. I wanted to create a dress for Miss Sweden that won't only be beautiful, or impressive, or another interpretation of a national emblem; but a dress that would be a result of something that made a real difference in people's lives.
We created a photography challenge, calling out for people all around the world to fulfill children's dreams, and document that in a photo. This instilled confidence and hope for the children in their future, and of course was also a playful experience. The photos submitted from literally all over the world were exhibited during the Gothenburg Culture Festival. I printed the photos on the fabric used to create "Dress of Dreams", which was Miss Sweden 2016 Ida Ovmar's both Evening Gown and National Costume. She appeared as Pippi, the strongest girl in the world, embodying the dreams, courage and power that Pippi herself represents. We even got Her Majesty Queen Silvia of Sweden's blessing for this project.
Photo: Avi Ericsson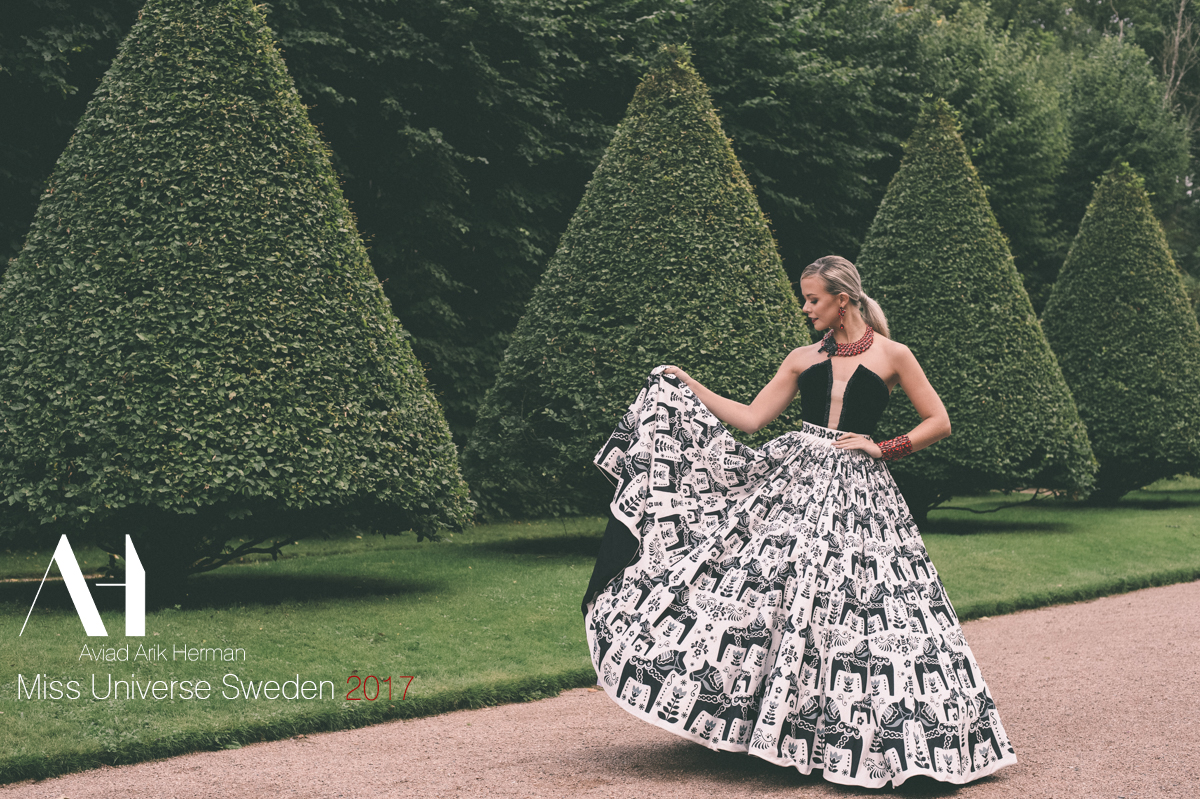 Second, this year we honor the national emblem and cultural treasure of Sweden – the Dala Horse, on it's 400 years anniversary. Many people know it as a nice souvenir or fancy decoration. Though traditionally it was created as a wooden toy for children to play with. So by its original essence, we had 400 children in Sweden who creatively painted their own Dala horse, which was then sent as a gift to less fortunate children in Mongolia and Nepal. It created a new connection between the children, provided them with a meaningful experience, and brightened up other children's life. Miss Sweden 2017 Frida Fornander wore an exclusive dress that depicts 400 Dala horses on it, in honor of the anniversary, and was nominated Top 5 Best Costumes with it.
What do you enjoy most about designing custom pieces?
First and foremost, I am passionate about designing. So just working with design gives me a great sense of fulfillment and joy doing what I love. What I enjoy most about custom design pieces, is the new challenges that each project brings. I see it as a new lesson to learn, develop, a new opportunity for a breakthrough.
How long does it typically take for you to design and create a custom dress?
The duration of a creation really varies, depending also on how elaborate the dress is. In average, I'd say we work on a dress for about 2-3 months – sometimes even longer – and of course it had also happened that a last-minute opportunity showed up and the time to produce was short. It is not impossible. I usually have the ideas and concept for Miss Universe a year or more in advance. To me that is where the process already begins.
Photo: Daniel Gossmann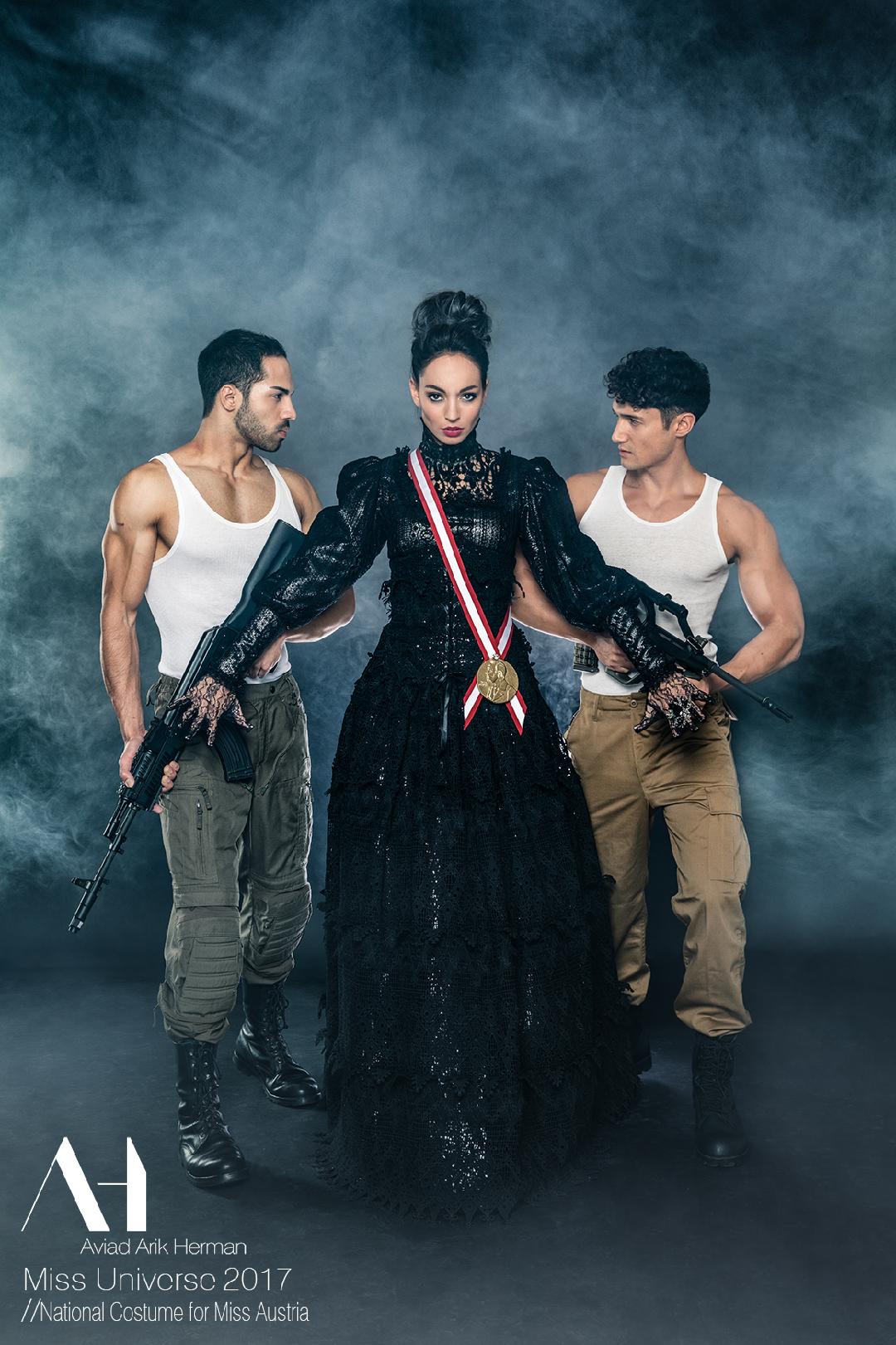 What do you feel is the most stressful part of creating your designs?
I feel fortunate with each opportunity to create my designs for someone. With the dedication, enthusiasm and love to what I love doing, stress isn't really playing a role for me.
How do you feel knowing that the contestant will be wearing your design on their special day?
It is of a great honor and privilege for me to have my designs represent countries on the stage of Miss Universe, the largest beauty pageant with over 1 billion people watching. This year marked the 66th Miss Universe pageant, and for me it was the 6th Miss Universe featuring my design work. That by itself is an extra ordinary achievement I am extremely proud of – designing for 4 countries – Sweden, Israel, Austria, and Guam, 2 of them (Israel & Sweden) were nominated Top 5 Best Costumes this year. I was thrilled to see each of these astonishing contestants shine on stage with their amazing dresses.
Photo: Miss Universe Organization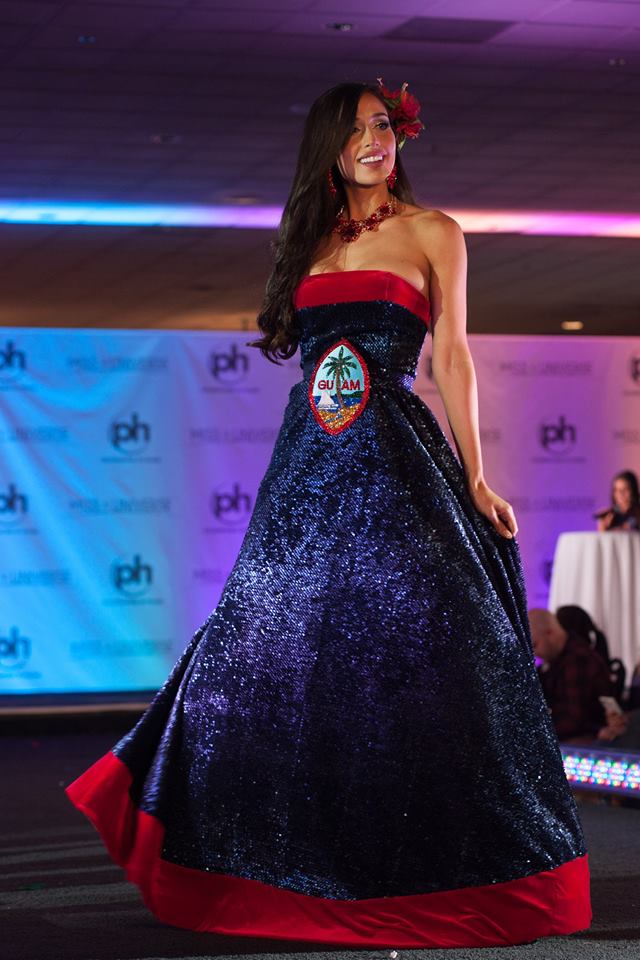 What do you enjoy to do in you free time when you're not designing?
Alongside my design career, I have been a professional performing artist for the past 15 years. So I keep myself busy with stage and camera work, as a dancer and actor. I really love and enjoy this diverse life. That to me is a lifestyle. So even things that aren't considered as literal work, to me are things I enjoy doing in my free time, are correlated and inspire me with my work, like going to the cinema, theatre, music concerts, museums and travel.
What's the strangest thing that's ever given you design inspiration?
I don't know what the strangest thing to inspire my actual design, but at times I had moments of insights during some life situations that might be considered as strange, like washing dishes or in the shower.
What is your favorite gown from all of your designs?
A gown that is very sincere to me is the one inspired by the book of Genesis and the very first woman ever in the Universe – Eve. It took 3 months to work on the dress, all done by hand, with embroidery, embellishments and 15,000 Swarovski crystals. Miss Israel 2016, Yam Kaspers-Anshel, wore the dress at Miss Universe in Manila, Philippines, accompanied by a snake and the forbidden fruit, of course. It even has a place of honor, opening my website home page.
Photo: Eran Levi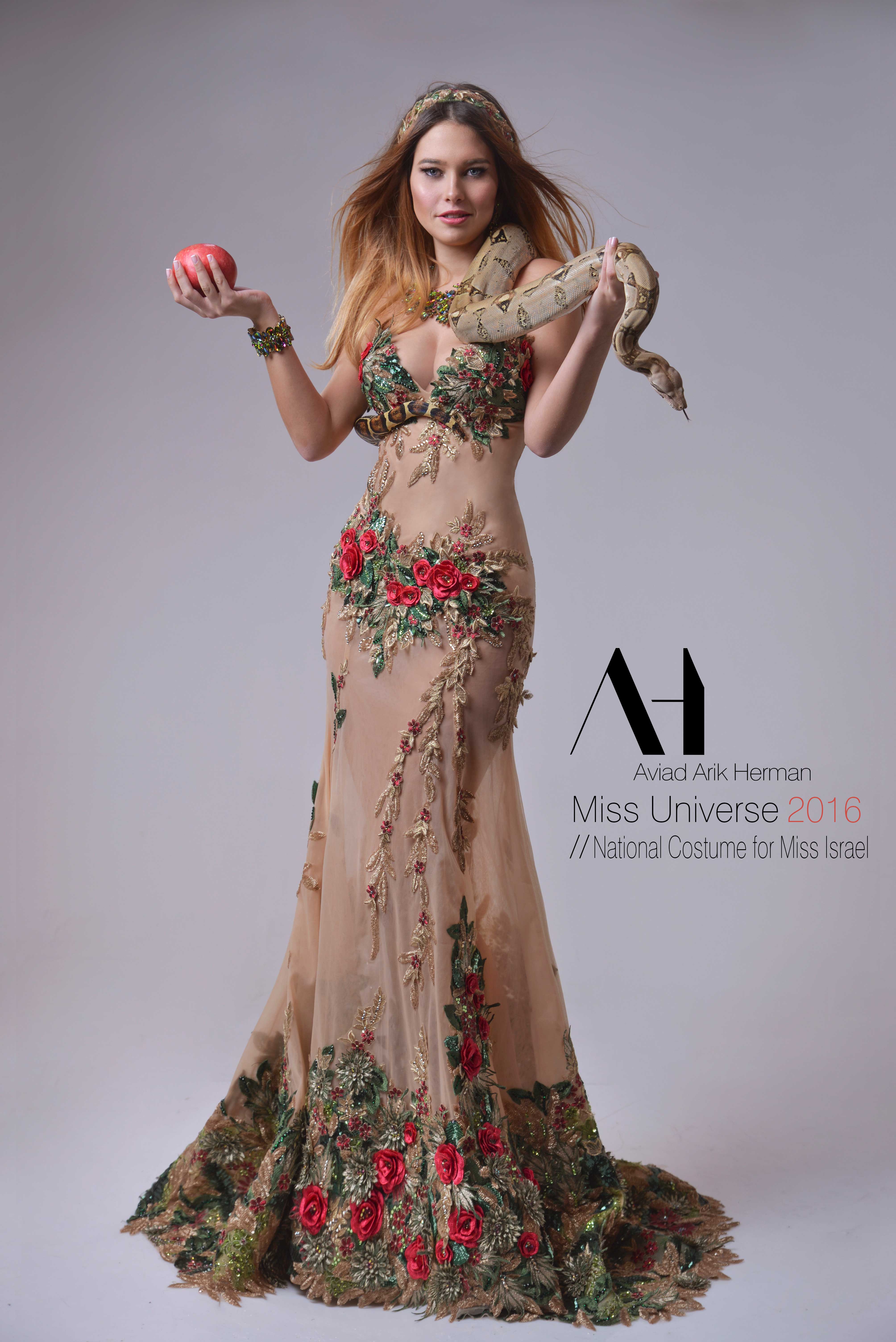 If you could design a gown for any celebrity, who would it be?
I would delightfully design for any celebrity who is interested in my design. The music of two great singers has been soundtrack of my youth. I was always touched, moved and inspired by them; during the many hours I spent sketching in my room, where I used to translate my emotions, experiences, thoughts, memories, secrets and feelings into fashion drawings: my way of keeping a diary. I dreamed of designing for these artists one day – Whitney Houston and Celine Dion – who contributed tremendously to the world. So it is a meaningful dream of mine to design for Celine Dion, it would be a powerful circle completion for me to design for her.
Who were your fashion role models growing up?
I grew up in a small town in the south of Israel. I had three fashion role models: my mother, grandmother, and the Barbie doll. My grandmother, 'Abuela' as we called her (unfortunately is no longer with us) used to be a professional costumer for Flamenco dancers back in Spain where she was from. My mom Sarit Herman, who is a mega artist herself, inherited that talent and skills from her mom. I grew up with the strong influence and inspiration of these wonderful, endlessly creative and beautiful ladies in my life, both of them with a very high sense of aesthetics and elegance. I still look up to them and learn from them. For my second birthday I got an unusual present – a Barbie doll. Throughout my childhood I collected more dolls and lots of their fashion, which was inspiring for me to play with.
When I turned 30, I met Barbie again, this time as a designer. I had the privilege to design for Mattel's original musical "Barbie Live!", directed & choreographed by Kobi Rozenfeld. That was an amazing experience and conclusion to see Barbie, world's most famous fashion icon, in her live version – sing, dance and dazzle the stage in my costumes.
What is the most challenging piece you have ever created?
I believe the most challenging piece I have created was a very special dress I was recently commissioned to design for the Israeli Culture Minister, Mrs. Miri Regev, who attended the red carpet opening ceremony of the Cannes Film Festival, at its 70th anniversary. The dress, which was named "The 'Jerusalem of Gold' dress", was designed and created in celebration of beautiful Jerusalem, the eternal capital of Israel, in the year that marked the 50th anniversary of the liberation and reunification of Jerusalem.
Photo: Eli Sabati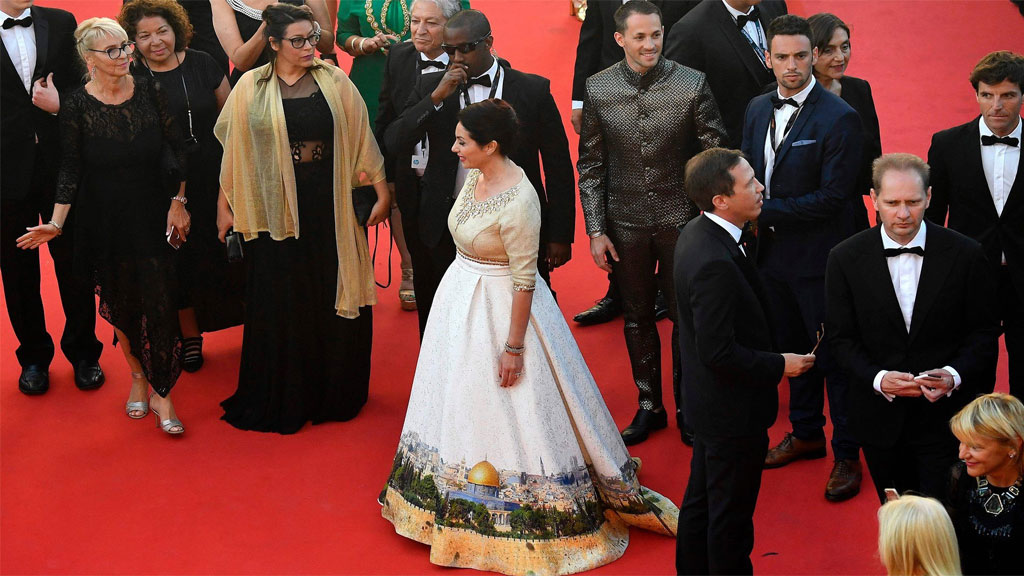 For thousands of years, nations have been yearning for Jerusalem. The love, affinity, and admiration of Jerusalem had been expressed through art in all possible dimensions. Having my own interpretation through designing a dress, worn by the Culture Minister, is a magnificent opportunity I would forever be grateful for.
What is the most rewarding part of the whole process?
The very beginning of a process for me already feels rewarding – knowing that my talent and skills are appreciated and generate new opportunities. That is really exciting and motivating. It also feels amazing of course to ultimately see someone happy; looking and feeling great in the piece I designed. This gives me a great sense of accomplishment and fulfillment.
You've done a lot of traveling recently, what were your favorite destinations?
Traveling is something I have been passionate about all my life, and fortunately get to do a lot. I love exploring new places, meet new people and learn about different cultures. Recently I got so travel and discover a new place – the amazingly beautiful island Guam, where I designed costumes for the local production of the musical Les Miserables. Though two of my absolute favorite destinations are Tel Aviv and New York City.
How are your pieces inspired by your global travel experience?
Global traveling provides me with new, exciting and unusual experiences in exotic places, which influence and inspire me with my creative work.
Photo: Eran Levi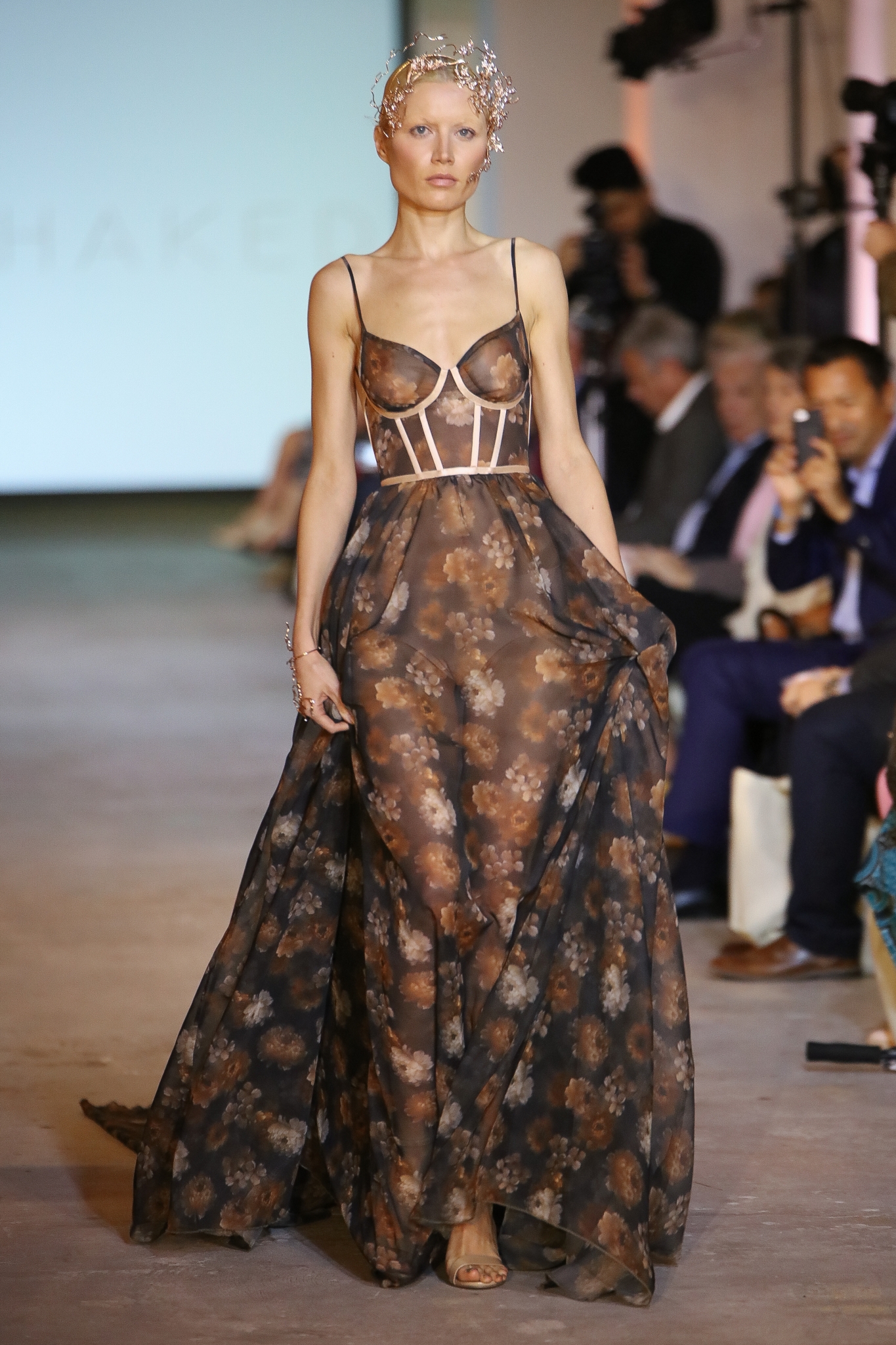 We love your Wonder Woman inspired design. How does it feel to have these Hollywood moments tie into your home country?
I'm glad to hear you love the design, Thank you for that! Gal Gadot, who is a former Miss Israel (2004) herself, has become a national hero and icon, a symbol for an extra ordinary Israeli success story. Everyone back home feels extremely proud. Choosing to create a Wonder Woman inspired design for Miss Israel this year (white and blue versions for Miss World and Miss Universe), together with the slogan "Israel – where a real Wonder Woman comes from", has been a beautiful way to promote women empowerment through this inspiring story.
Last year I had another chance to tie another big Hollywood moment into a design, as the year marked the 50th anniversary to the most successful film musical of all times – Sound of Music. I designed the National Costume for Miss Austria 2016, depicting the legendary Dame Julie Andrews.
Thomsen Photography


Where do you think the future of fashion is heading, especially with new technologies rising?
I am really humbled to be asked such a question, though I am more concerned with the future ahead of the world we live in. I want to believe we are heading towards a pink future. Isn't pink always in fashion?
Which area of design would you like to explore next?
I would love to design and work with big spectacles, Broadway shows, Radio City Music Hall, Cirque du Soleil and similar. I love the scale of productions done in Las Vegas and aspire to design such shows in the future.
Would you ever collaborate with other designers, and who would it be?
I have been already collaborating with designers and artist of different disciplines throughout the years, like Interior Architect Boris Soltanov, and Sculpture Artist Eyal Assulin. It is very exciting to put creative minds together and work on something in a team. I am open to new possibilities, with whoever it may be.
What's your go-to motivational mantra of words to live by?
I am not immortal. And I can.
What's the best piece of advice you've ever been given in your career?
During my career, I come across people who sincerely advise me to choose something else, because they are confident I am not good at what I do, and will never succeed. Ironically, these advices get me powerfully connected with my passion and determination.
More from the designer.